When we got the chance to do a Deeper CHIRP+ review we jumped at the opportunity. At first glance, the device looks to be packed with useful features that will increase the amount of fish that end up on the bank. Does the CHIRP live up to the hype? We think so.
Deeper CHIRP+ is the world's first castable, Wi-Fi-enabled fish finder that employs CHIRP technology. The device can be used to enhance your fishing by helping you to find target species holding spots and predator fish. The device can be used from the shore by casting or trolling from your boat or kayak. The device is equipped with a bathymetric mapping capability which enables you to create maps of your venues. These maps can be viewed at a later date from the comfort of your own home. It sounds awesome but is it that good? We took the Deeper CHIRP+ out with us throughout a few sessions to find out.
What is the Deeper CHIRP+?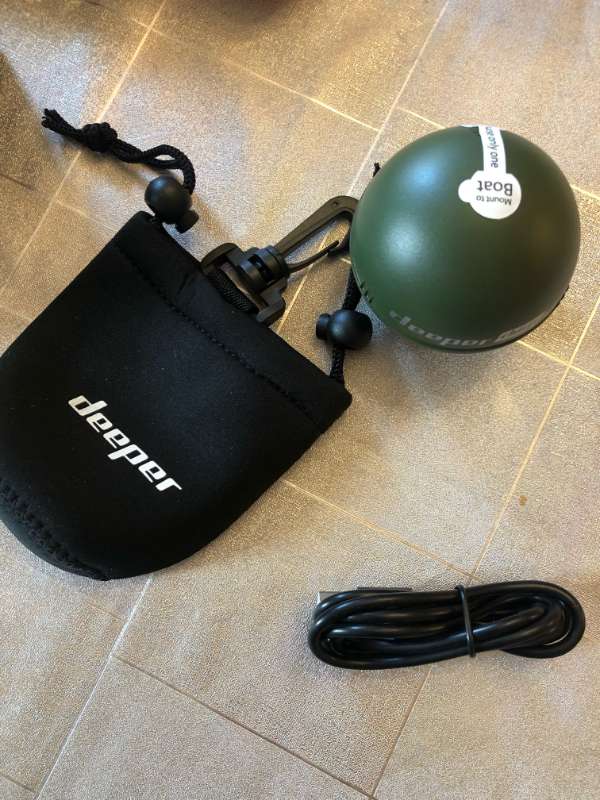 Castable fish finders have been around a while now and many anglers carry them to help find the fish on a tough day. What makes the Deeper CHIRP+ special and why should you invest your hard-earned cash in one?
The key difference between the Deeper CHIRP+ and other models in the Deeper range is the transducer and how many, and how often, ultra-sound pulses are emitted into the water column. Other models like the Deeper Pro use more traditional dual-beam SONAR, which transmits fixed sound wave frequencies into the water.
The CHIRP+ however, releases a continuous flow of pulses ranging from low to high frequencies in a given beam (cone angle).
In short, this means that the CHIRP's results are much clearer and present a far more detailed representation of fish, fish-holding structures,  weed beds or simply the lakebed in comparison to non-CHIRP models. 
The CHIRP+ will produce images with better target separation, better deep-water penetration and decreased clutter ('noise') in a faster time than the Pro+. This means you can find features and fish more easily and more efficiently, as well as a clearer picture of the lake, river or sea bed.
Pick up the Deeper Smartphone Mount here
Please Note:
While we only ever link to tackle and lures that we have used and recommended, the links below are affiliate links. This means that if you click a link and buy the product we may receive a small commission from the retailer (at no extra cost to yourself). Should you choose to use an affiliate link please know that we are extremely grateful and any commission we do receive helps us to maintain the blog.
First Impressions
I'm not going to lie, the Deeper CHIRP+ looks great. The blend of British Racing Green ABS enclosure and titanium inserts, not only look good but ensures the device can withstand heavy-duty use.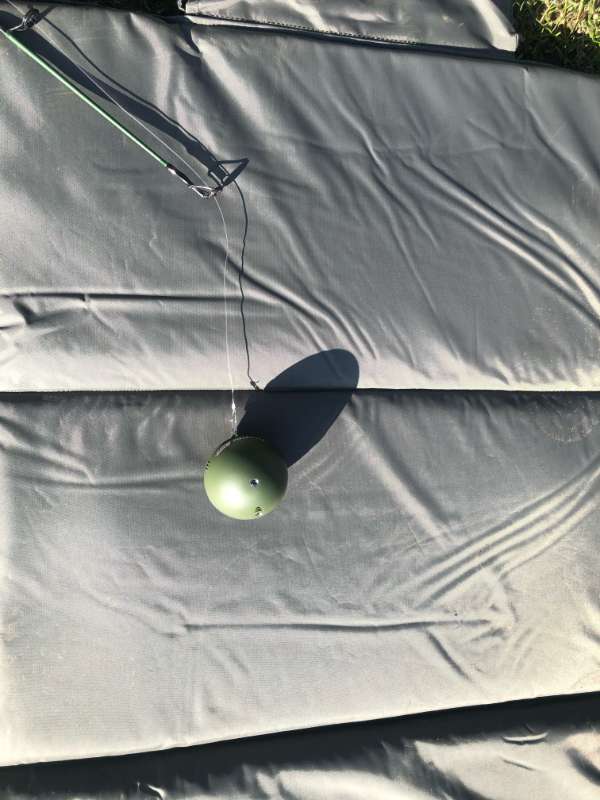 The charging port is found on the inside of the device and you can access this by unscrewing the top section from the bottom. Be sure to re-attach this securely before you cast it into the water as failing to do this would destroy the unit! Fortunately, Deeper added some markers to the ABS to show you when the device is watertight.
When it comes to charging I found Deeper's estimates of 80% in 45 minutes to 100% in 75 minutes to be bang on the money. The device shows an amber light while charging and a solid green light when fully charged.
Setting up the Deeper CHIRP+
To be honest this is very simple. It probably took longer to type up than it took to do. Just register an account with Deeper and download the App to your phone. I use an Apple iPhone but there is an app for Android devices too.
We dropped our device in the sink to activate the deeper and connected it to the internal WIFI. You could easily do all this at the bankside but we wanted to be set up before we arrived at our venue.
Attaching the device is super easy although I would prefer if Deeper enclosed a leader as other companies such as Garmin do. This is only a very minor complaint.
Just attach your leader to one of the three anchor points (Shore Fishing, Trolling and Vertical) and you are good to go. 
In case you are interested this is the setup we used to cast the device from the bank. We probably went a little overboard but the last thing we wanted to do was lose it!
Rod: 9ft Pike Rod rated 4lbs
Line: 20lb Monofilament
Shock Leader: 50lb (probably not necessary)
Heavy Quick Clip
As soon as the device gets wet open your app and it will connect to your sonar. If you want to create a Bathymetric map (more on this later) be sure to use the correct setting.
Pro Tip* On our first trip out we used the devices default setting which is 'Standard Scan' and later found out that this setting does not create the maps we wanted. On our second trip, we used the 'Shore' setting and our maps were created seamlessly.
If you need any further info on setting up your Deeper CHIRP+. Check out this video or get in touch.
Let's get the Deeper Wet
Our venue of choice for the Deeper CHIRP+ review was a new lake we have recently taken over alongside a community group called Angling for All. This lake is in serious need of work to restore it to its former glory.
We also knew nothing about its depth, fish stock and potential fish-holding features. Hopefully, the Deeper can help us to understand our project a little better and help us to see what lurks below.
The Deeper connected flawlessly and far quicker and easier than devices like the FishSpy Echo Pro and IBobber.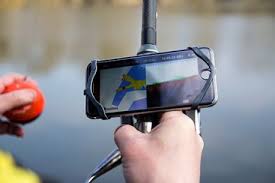 We used the smartphone mount on our rod. Unfortunately, this does not come with the device but can be purchased separately. We paid £14.99 from Amazon. Though an extra expense, I would recommend investing in one as it can be awkward to cast, reel and watch your phone all at the same time.
The Results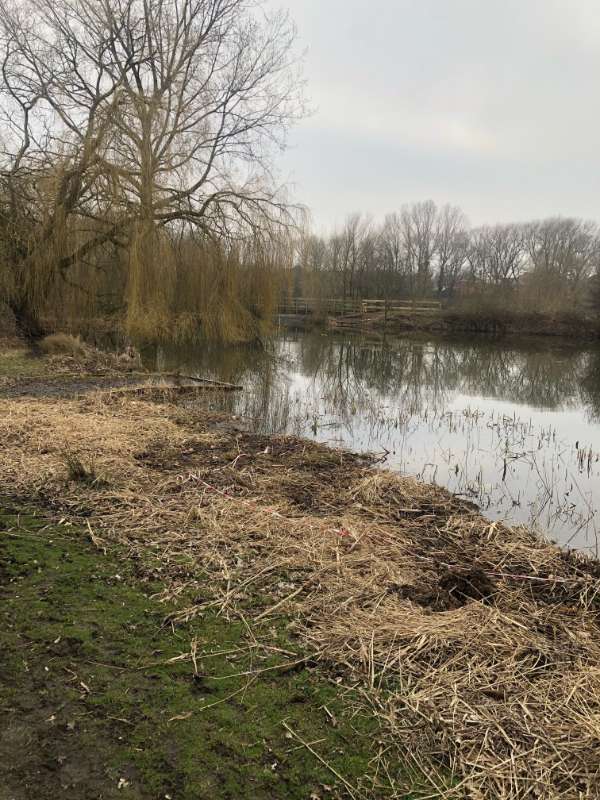 We tried our best to cover most of the water on our venue but this was difficult due to the state of the lake concerned and the limited number of appropriate casting spots. However, the Deeper CHIRP+ did its job and found lots of features and fish-holding spots.
We found a huge shoal of what I would guess at being bream and several potential pike lying in ambush at the bottom of nearby drop-offs.
The device told us that the huge shole we found were sat in the deepest area of the lake (we didn't know where this was beforehand) amongst a patch of vegetation.
In typical fashion, the predators were lying in wait a few feet from this spot getting ready to smash anything stupid enough to emerge.
It's so exciting to see your potential target species and have an idea of where to put your bait. I could not believe that I hadn't brought a lure rod with me and contemplated going home for it on many occasions.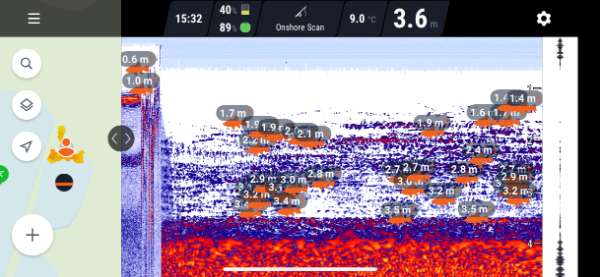 The Deeper CHIRP+ has several nice features that make the device accessible to new users.
Fish icons are great and can be filtered to small, medium and large fish. This is something I have never seen on any other castable sonar unit.
The sensitivity can be altered to reduce clutter or pick up the tiniest of baitfish.
Fish Alarm is a brilliant feature that emits an audible sound from your phone whenever a fish is picked up by the unit
Colour Palette can be changed to suit your needs and situation
A word on Beam Angle
This is a feature that we want to explore in more depth in future blogs as it just wasn't possible to do it justice during our Deeper CHIRP+ review. The Deeper CHIRP+ offers 3 different beam angles to utilise when fishing 47° 16° and 7°. Deeper say that you should think about Beam Angle like Flashlight and Floodlight and this is a pretty accurate analogy.
We started all of our casts with the wide beam. This allows you to scan more of the lakebed and potentially find more features in one cast.
However, upon finding something of interest we changed the beam to a more narrow setting. The reason for this being that the more narrow settings give a much more detailed return. This is fantastic for species identification, target separation and finding those perfect little honey holes.
Battery life
Now, this is was an important feature for us in our Deeper CHIRP+ review. We can tell you that the battery life is very, very good. In fact with all our trips out our ageing iPhone has been the one to suffer the most.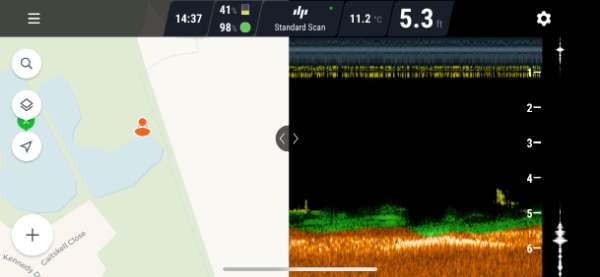 Deeper say their device can last up to 10 hours and has a low power mode should you require it.
While we can't completely verify the 10 hours we can say that we fished with the deeper in bathymetric GPS mode for over 3 hours and still had 87% battery! This is by far the best performance I have experienced with any castable fishfinder. In our opinion, 10 hours seems like an achievable length of time on one charge.
Bathymetric Mapping and Lakebook
Hopefully, by now you are picking up that we think the Deeper CHIRP+ is an excellent device, however, the jewel in the crown is yet to come.
Aside from being stored in your app, Deeper's Lakebook (cloud-based) is where all of your created maps will upload. You can then access these maps from your phone, tablet PC or laptop.
Lakebook allows you to look back at your map and view the depths, water temp, fish and any features you found. You can click on any of your mapped areas and the sonar result will appear allowing you to pinpoint exact locations to examine in detail.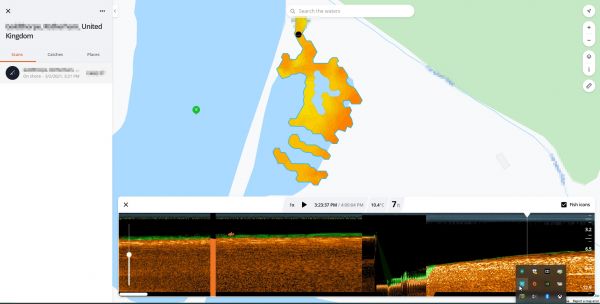 What's more, you can measure the distance between features or in our case we measured how far from the bank we found the fish. Ideal for planning where pegs should go!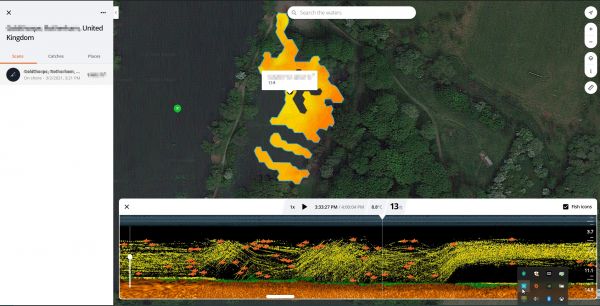 If that isn't enough these maps can be shared via a link with anyone you choose. Going fishing with a friend send them the map first.
Deeper CHIRP+ Review – Final Thoughts
During our Deeper CHIRP+ review, we were seriously impressed to say the least. It is an insanely good device and used correctly will I have no doubt help you put fish on the bank. The only thing the Deeper doesn't do is catch them for you but then where is the fun in that?
If you are in the market for a castle fishfinder we recommend you take a look at the CHIRP+. Its hands down the best we have used to date. 
Pros of the Deeper CHIRP+
Looks great and built to last
Excellent technical specs and long battery life
Feature-packed and accessible for beginners
Performance in the water is second to none
Bathymetric Mapping is gold dust
Lakebook is insanely good
Cons of the Deeper CHIRP+
The unit is pricey to buy
No leader comes with the device
The smartphone mount is a further expense
Pick up the Deeper CHIRP+ Here
We hope you enjoued our Deeper CHIRP+ review
Let us know in the comments below.
Why not check out our blog? Or subscribe to the newsletter to find out when a new post lands? You could win a free lure in our monthly giveaway!
Any other suggestions? Leave a comment below or get in touch
PZ