Lure fishing for pike on rivers can certainly be a challenge, but without doubt the best time to try is late summer and autumn. As we approach this optimum period, we take a look at how you can prepare and ensure that this year is your best pike fishing yet.
While we only ever link to tackle and lures that we have used and recommended, the links below are affiliate links. This means that if you click a link and buy the product we may receive a small commission from the retailer (at no extra cost to yourself). Should you choose to use an affiliate link please know that we are extremely grateful and any commission we do receive helps us to maintain the blog.
Lure fishing for pike on rivers – Prime time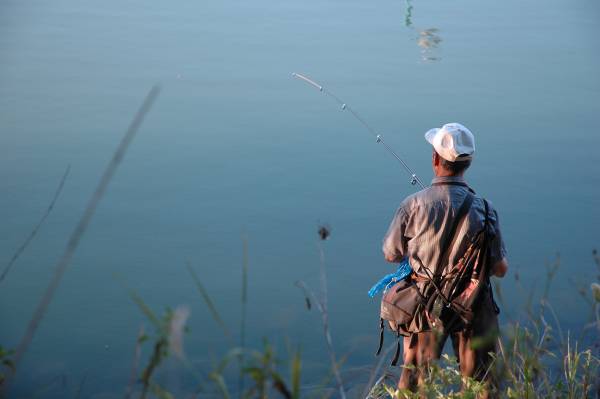 Autumn is the best period because of a couple of reasons. While the water still carries some warmth from the summer it's not warm enough to make the fish lethargic. Further to this the pike are still actively feeding and will be happy enough to chase a lure because of the cooler water
Whilst conditions are favourable for the pike angler there are a few considerations that you should make: The likely increase in rainfall could cloud the water, on days like this, it can be worth considering a brighter lure and/or a bigger lure. This can help to increase the chance of a take.
Another issue that all anglers face but particularly when Lure fishing for pike on rivers is weed. At this time of year, the weed is starting to die off but is definitely still present. The breakdown of the week can cause the water to colour up and be a nuisance when covering your lures in debris. The weed will be present until late autumn so if you are to be successful you must find a way to navigate this issue.
There are a few methods you can try such as weedless rigs etc.. but one of our favourite methods is to use a floating lure. With a little trial and error, you can often navigate the weed by slowly letting the lure rise above the main areas of concern.
A few examples of excellent floating lures are as follows:
Lure Fishing for Pike on Rivers – The Retrieve
When fishing with lures the retrieve can be very important – remember you are trying to make your lure stand out amongst the other fish in the stretch of river you are fishing and entice a strike. The way to do this is by ensuring your lure looks like an easy meal.
The Straight Retrieve
The straight retrieve is exactly what it says! Cast the lure into the water and bring it straight back to you with a constant turn of the reel. Often the lure will have its own action that will allow it to attract a fish to strike. Lots of lures that we use here at Pikezander work really well on a straight retrieve. If nothing is happening, perhaps, try to vary the retrieve speed and see if that can make the difference.
Something to consider when employing the straight retrieve is the depth of the lure. This will be indicated by the angle of the vein on the front of the lure. Remember there will still be plenty of snags around and the deeper you go the more likely you are to run into trouble.
Twitching retrieve
The twitching retrieve is used to allow for a darting movement into a lure. On its day this type of lure can be deadly for attracting big pike.
Try twitching the rod tip back while continuing to reel the lure in. Try to keep the lure on the same trajectory as the line. Allow the line to go slack for a fraction of a second to allow the lure to move and dart around.
Want to learn more about lure fishing techniques? Check out our dedicated section
Lure tackle
Pike lures tend to weigh anything from 12g right through to 200g. To be able to cast and impart action in the lure, you will need a rod that is up to the job. Look for a specialist medium or heavy lure rod. a lure properly, a rod designed for lure fishing is best. We have a selection of rods but tend to favour the medium to heavy type rod.
The reel is just a standard fixed spool reel loaded with a 30lb braid. We have mentioned in previous articles why braid is the best line to use for lure fishing. If you want to find the best reels under £100 why not see our post here
To finish your setup you should ensure you have a wire trace. This prevents a pike from biting off the lure and being left with a lure stuck in its mouth. There are a number of pike unhooking tools that you should have at your disposal should the need require. You can find out more about these tools in another post that can be found here
Rods
An excellent example of rods that would be up to the job of fishing for wild river pike are:
Reels
Just a standard fixed spool spinning reel will be more than adequate for the challenge. We tend to use a 4000 size reel.
Braid
As mentioned earlier in this post. Braid is the best type of line to use on your reel for a number of reasons. Try out some of these to improve your lure fishing
Lure Fishing for Pike on Rivers – The Conditions
During late Summer and Autumn, the time of day you choose to fish is very important. The vast majority of takes will happen either early morning or at dusk. If you think about it this makes perfect sense. Pike are predatory fish and use the shadows to conduct their business.
When you get to the bank try to be stealthy to avoid spooking prey fish or the pike themselves. Keep a low profile and avoid casting shadows over the water if at all possible. Work your way down the river fan casting the lure. Be sure to target all of the potential hiding places where a pike may be. Don't spend too much time in each swim, if the pike are going to take they will do so almost immediately.
As I mentioned earlier one of the challenges at this time of year is weed and snags. These can quite often be mistaken for bites especially when lure fishing for pike on rivers. It is generally possible to distinguish between a snag and a bite. When a lure pick ups weed the lure will become heavier and there will be a change in the feel of the retrieve. A bite from a pike is a pulling sensation and it is usually quite positive. If you are unsure it is often best to wait as Pike commonly have another go at a lure if they missed the first time around.
Weather conditions
Weather conditions play a big part in whether the fish will be inclined to bite or not. In ideal conditions, the river will have a steady flow and overhead conditions would be overcast. Bright sunshine whilst lively to be out in is rarely the ideal condition for lure fishing. Consistent weather over the previous days would be an added bonus. Unfortunately, this is unlikely here in the UK.
Best of luck lure fishing for pike on rivers, let us know how you get on.
Did you see our feature post of the year? The Best Pike Lures of 2021. It's worth a read. Hit the link to go there now.
Let us know in the comments below.
Why not check out our blog? Or subscribe to the newsletter to be in with a chance of winning a free lure in our monthly giveaway!
Any other suggestions? Leave a comment below or get in touch
PZ