The best pike lures of 2021 was always going to be a difficult post to write. There are so many companies producing brilliant lures with different types of action and in a range of different colours. It can be really hard choosing which lures you need to buy and take to the bank.
Choosing the best pike lures
Here at Pikezander, we try to keep an eye on the angling world and which lures are creating a buzz. Often the buzz is for good reason and anglers have found something that works.
In this post, we will be listing the hottest, most lethal pike lures of 2021.
Last year our number 1 pike lure was the Rapala X-Rap Peto. Can it hold on to its spot? Or is there something new and shiny that we should all be throwing? Let's find out right now.
Want to check out the best lures of 2020? You can get an eye full here
While we only ever link to tackle and lures that we have used and recommended, the links below are affiliate links. This means that if you click a link and buy the product we may receive a small commission from the retailer (at no extra cost to yourself). Should you choose to use an affiliate link please know that we are extremely grateful and any commission we do receive helps us to maintain the blog.
10 Headbanger Shad Suspending (New Entry)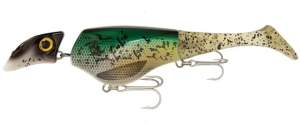 This is a new entry and is a very interesting lure. The Headbanger Shad can be cast on any medium spinning set up but promises the action of the larger heavier lures.
The lure works really well with just a straight retrieve but really comes to life with pauses and small twitches.
9. Abu Garcia Svartzonker Mc Mio Tail Slow Sink 24cm (New Entry)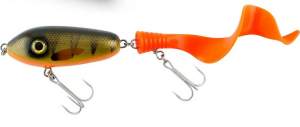 The Abu Svartzonker McMio is irresistible to predators such as pike and zander. It has a smooth rolling action that entices predators from their ambush spots.
The lure is fairly lightweight and can be cast safely on any medium spinning setup. A very worthy new entry into our best pike lures of 2021 list.
8. Westin Swim 12cm Sinking (New Entry)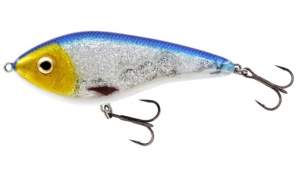 The Westin Swim narrowly missed out on the best pike lures list last year. The lure has a number of benefits. It casts like a bullet and is pretty lightweight. Like the Mc Mio, this lure can be cast with a medium spinning rod or jerkbait setup.
We prefer the 12cm sinking variation as it doesn't seem to spook big pike with its splash. This lure can be used year-round with a fastish retrieve in warmer water and a really slow retrieve when it is cold.
7. Strike Pro Buster Jerk II 12cm – Suspending (New entry)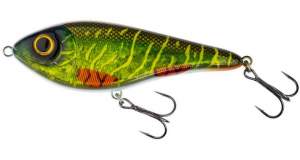 Perhaps a little unfortunate to not be further up the best pike lures list. This lure is one of our all-time favourites.
This lure has a side-to-side movement and a very enticing belly flash when you jerked.
It is quite a versatile lure and at home with all different types of lure retrieval techniques. We like to use this lure for searching large amounts of water and employing different types of technique.
You can also jerk it with the rod tip upwards to make it fish just below the surface. If you are struggling for a fish this lure has dug us out of a blank on many, many occasions. Certainly, one that should be in every pike anglers box.
6. Rapala X Rap Jointed Shad 13cm (Down 3 places)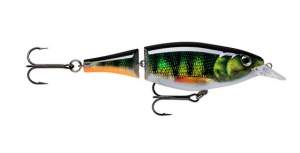 The Rapala X Rap Jointed Shad produces a erratic swimming motion. This lure has been very effective for us in cold water.
The lure can be cast or trolled and the neutral buoyancy with a slight rise on the pause mimics a wounded minnow.
This is a classic lure, well worthy of its place in the best pike lures of 2021.
5. Squirrely Burt – Weighted – Firetiger (New Entry)

The Squirrely Burt is a very unique and interesting lure. Experienced lure anglers tend to keep this one a bit of a secret (sorry guys).
Burt is 11 inches in length and fitted with a soft tail, probes holes and pockets in weeds and stumps. On the pause, the tail flutters to generate a life-like action that more often than not will trigger a strike. The Squirrely Burt is really a lure for the biggest pike. Looking for your PB? Give Burt a swim.
4. Rapala Super Shadow Rap (Up 1 place)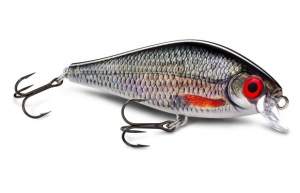 A sensational lure that we absolutely love to throw.
Twitch it gently for a suspending action, or bring it back at speed to grab the attention of a big fish.
Whichever way you choose to fish it big predators can't resist it.
3. Westin ShadTeez 19cm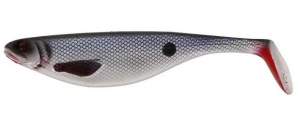 Simply the most prolific shad we have ever used. The ShadTeez is just a brilliant match the hatch bait. The deep body and wide tail create a rolling, flashing action – even in low speed, leaving big pike and zander licking their lips. It's perfect for jigging, spinning or vertical fishing.
2. Rapala X-Rap Peto (Down 1 place)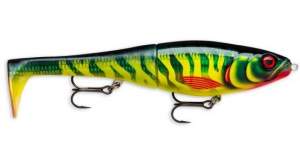 The 2020 king is down one place but its still an outstanding choice and deserving of its place on our best pike lures list. The Rapala X Rap Peto is a lure that has proven its worth to pike anglers across the world.
The 14cm model is our favourite and comes in at just under 40g meaning that you can cast this with most medium setups.
The X Rap Peto is a stunning hybrid lure that offers the durability of a hard bait and the action of soft plastic bait. A must-have for any lure angler.
1. Strike PRO Miuras Mouse 23cm – The Best Pike Lure of 2021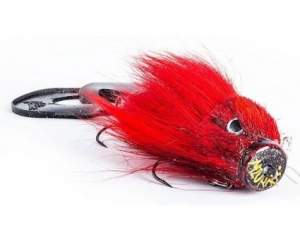 A new king is crowned! The Strike Pro Miuras Mouse has become the must have pike lure of the year and easily the best pike lure of 2021.
The Mouse has a unique deer hair sculpin design and a soft plastic twin-tail. This results in a very versatile hybrid bait.
Brought to fame by the YouTube series PikeFight, CWC secured the win by landing a 30lb plus pike on the Miuras Mouse! Since then anglers across the country have been throwing the Miuras Mouse.
The bait itself makes a lot of movement in the water due to its flat nose and deer hair mane. The hair pulsates whilst being retrieved in a jerking style. This makes the footprint of the bai quite large and is easily spotted by predators in all water conditions.
The twin tail provides additional vibration and attractant. If you can get one buy one today!
We hope you enjoued our Best Pike Lures of 2021
Let us know in the comments below.
Why not check out our blog? Or subscribe to the newsletter to find out when a new post lands? You could win a free lure in our monthly giveaway!
Any other suggestions? Leave a comment below or get in touch
PZ