Its is time to check out the best pike lures available in 2020. Whether you're eyeing them up as a gift or like me you like to choose your own… here are the best pike lures 2020 money can buy. P.S if you want to see the best perch lures 2019 hit the link.
Please Note:
While we only ever link to tackle and lures that we have used and recommended, the link below is an affiliate link. This means that if you click a link and buy the product we may receive a small commission from the retailer (at no extra cost to yourself). Should you choose to use an affiliate link please know that we are extremely grateful and any commission we do receive helps us to maintain the blog.
5. Rapala Super Shadow Rap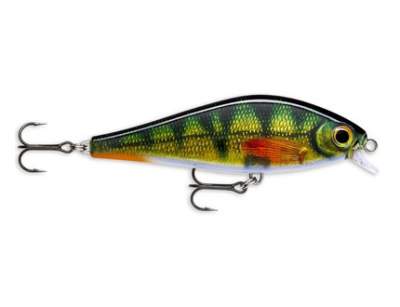 This is an award-winning bait from the masters at Rapala and stands out in our best pike lures 2020 list.
Twitch it gently for on-the-spot action, or rip it hard to turn it into the mouth of a big fish. Either way opportunistic predators can't deny the Super Shadow Rap as it kicks hard to the side, then slowly fades away into the depths like a dying fish. Its tall body perfectly mimics the silhouette of a big baitfish.
Running Depth: 1-1.4 m
Length: 16cm
Weight: 77g
4. Savage Gear Da'Bush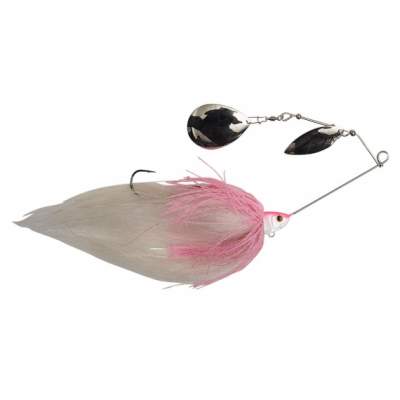 Incredible flash and heavy propulsion in the water and the superior Colours and quality of the components. Da'Bush Spinnerbaits have a spooky, hypnotic effect on big Predators, and they attack the lure with brutal force. Da'bush spinnerbaits are perfect to fish through weed beds, snags and submerged lily pads. Big spinnerbaits are a must in your tackle box when lure fishing for pike, so make room for Savage Gear's Da'Bush. A worthy entry in our best pike lures 2020 list.
Weight: 34/42g
3. Rapala X Rap Jointed Shad 13cm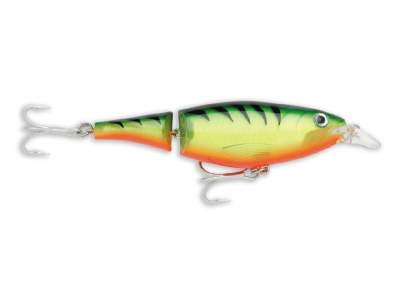 With its jointed body, the X Rap Jointed Shad produces an exaggerated swimming motion, sometimes just the ticket to turn on sluggish fish and has been very effective for cold water pike.
Cast or trolled the intense action begins at the slowest speed, though an equally fantastic action is achieved at high speed.
Near neutral buoyancy with a slight rise on the pause mimics a wounded minnow.
Want to know how to fish these lures? Check out our post – Lure Fishing Techniques
Weight: 46g
2. Spro Swimbait BBZ-1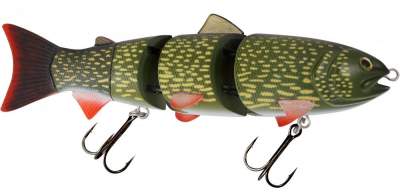 SPRO's Bill Siemantel Signature Series 6 inch BBZ-1 is a slightly more compact version of the original BBZ-1 Trout that was designed by the world-renowned swimbait expert Bill Siemantel. These ultra-realistic swimbaits are built on the same principle as the original BBZ-1 that has been so successful. The SPRO 6-inch BBZ-1 also features 2 sticky sharp Gamakatsu 2X strong treble 18 hooks so once the fish is hooked it stays hooked. The SPRO 6-inch BBZ1 is sure to entice even the wariest of lunkers into striking. Now it is time for our number one best pike lures of 2020.
Weight: 59/65g
1. Rapala X-Rap Peto – Best pike lures 2020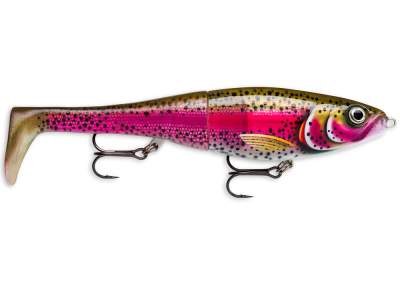 Our best pike lures and simply our favourite lure of 2020 is The X-Rap Peto. The lure combines Rapala's fish-catching X-Rap construction with a beautiful colour-matched soft tail to create a stunning, fish slaying hybrid bait. With its slow sink rate and horizontal fall, X-Rap Peto is the perfect choice for tough cold water conditions. The tail wags with a wide action when retrieved; or try a jerk pause allowing the bait to slowly swim into the depths. The soft tail is firmly secured to the body with a 6-point stainless plate.
Weight: 83g
Hopefully, you enjoyed this post. Why not check out our blog? Or subscribe to the newsletter to find out when a new post lands? You could win a free lure in our monthly giveaway!
Looking for the best lures to use in the US. Check out this article by our friends over at Tackle Village
IF you pick up any of these lures, let us know how you get on. Any other suggestions? Leave a comment below or get in touch