Before we talk about custom lures we need to get one thing straight! Lure anglers, no matter from what walk of life, all have one thing in common… a fascination with bits of plastic, occasionally wood and more recently soft plastic. That's right, us predator anglers love our Pike lures almost as much as fishing itself. In my own personal opinion, I would sometimes rather go looking for a new lure as opposed to standing in the rain on a cold November day and blanking. However, when it comes to fishing lures not all are made equal. You have your premium brands and then the budget ones… you know the ones you see for a quid that look decent and you hope will prove to be decent but never do. Then there is a custom lure. The creme de la creme if you like. A lure that is not mass-produced but painstakingly unique and handmade. A lure that will behave like no other lure and one that every single angler you meet will want but will never ever be able to get.
Well, we wanted to know more about custom lure building so we asked arguably the premier custom lure builder in the UK – Barry Robinson owner of Robinson Lures
Hi Barry, many thanks for speaking to Pikezander. Please can you tell us a bit about yourself and how you got started building custom fishing lures?
Hi there, I am Barry Robinson I am 41 years old and I live in Wigan in Greater Manchester. I started fishing around the age of 6 when I would accompany my Father and Grandfather to local matches (usually on the canal), I eventually moved onto fishing these local matches and was lucky enough to win a few.
As I grew older my love for fishing grew with me and I have been totally in love with the sport since those early matches.
My earliest memory of Lure fishing was joining my Father at the local Flash watching in awe as he made a small spoon and a Rapala copy seemingly come to life in the water.
I think it was the 90's when my interest in Lure fishing piqued, the 'Jerkbait' was here, this technique (that originated across the pond for targeting Muskie and Big Pike) totally fascinated me and I soon purchased a Toothy Critter Rod and Reel combo and started to collect a few of these interesting lures. It was a natural progression to start messing around making a few of my own to use, my early efforts were very crude and poorly built/painted. However, I did start to catch a few on my homemade creations and it a great buzz to catch on something you have created yourself, what starts as a Hobby often becomes an addiction, and Lure building is certainly addictive.
10 years on and I am still trying to improve in every aspect of Lurebuilding, I still can't saw a piece of wood straight and my rudimentary woodwork skills are extremely poor.
The Custom Bream Lure
Well, that gives hope to us all! Where does the inspiration for designing and building your lures come from?
Inspiration almost always comes from being on the water and wanting lure to cover a certain fishing situation, for example, I fish a large Northern Reservoir on the feeder for Bream and these fish are often picked off on the retrieve by the Pike that also inhabits this water. That is where my Bream originated from, I was trying to fool fish and give myself an edge I suppose. The Bream has gone on to take Pike to 40lb and catfish to 80lb plus literally hundreds of other large Pike.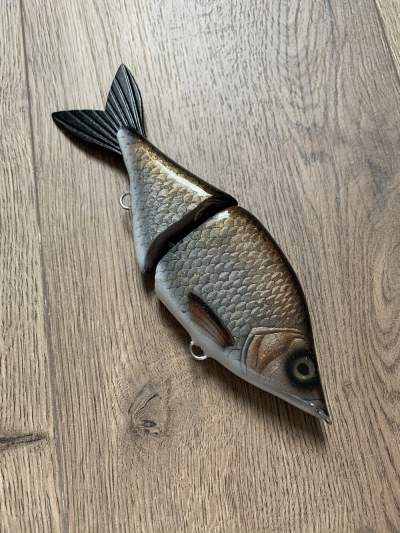 Sometimes a design was not even intended, take the Gliding Trout this has become one of my most popular lures and they simply catch for everyone who tries them.
The story behind it is worth explaining though, the original carving for the lure did not have a rear tail fin at all. I had created the lure as a jerkbait and was hoping to use it on a Lure Angling Society match at a Trout water. Despite all my attempts to create the desired action, the lure was a dud, the night before the match in a desperate attempt to rescue the lure I cut some 1mm polycarbonate sheet and gave it a rear tail fin. The following day I caught 5 pike to 17lb all on that perch pattern botch job, knowing that having a lure with a rear fin like that would possibly get me lots of grief (because of Manta comparisons) I tried to keep it under wraps but eventually, word spread and I reluctantly made a few for people.
Fast forward to today and they are one of my most popular lures, credit has to go to the Manta as had I not ever seen one I doubt I would have thought to try the rear fin, it has however not my intention to originally make a lure like that.
Lure Building Inspiration
Do you admire any other custom lure builders?
Initially, I was inspired by the Writings of Dave Lumb and his views on lures being tools, with each 'tool' having a use for a certain situation. I wanted to create a complete set of tools for myself i.e Glidebait, Pullbait, Fast Sink jerk, Tailbait etc, etc.
The Lure builder that was my first real inspiration was Loz Harrop, I used lots of his lures and have caught many Pike on them over the years. Loz made some wonderful lures and his designs have stood the test of time, my favorites were the Jackal, Middle Darter, and The Titchy Jim (a band I used to play in even named a song 'Titchy Jim').
Dave Kelbrick was another lure builder that created some incredible lure designs including the huge Fox range of lures mega Mouse, Spearhead, etc, a big mention must go to Dave Scarff who was one of the first to start producing jerkbaits for the UK market (his pig lure is legendary).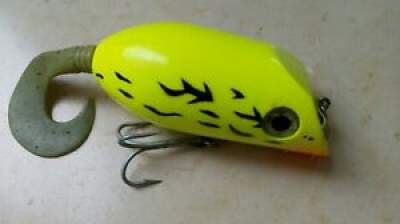 There are lots of custom Lure builders around now, the levels of craftsmanship have never been higher. Lure builders like Joe Peterson at Trueglide Lures, Madtown Lures, JW Lures, Saint Lures, Wolfcreek, Ola Lures, Luckylures, Lovelylures, the list is huge.
The Uk has quite a few custom lure builders and the Uk market is slowly coming to terms with the extra cost involved purchasing custom lures, I have had many people balk at my prices but the amount of work that goes into custom lures is ridiculous.
A few of the Uk builders, If I forget anyone I apologise in advance – Peter Temple, Dave Greenwood, Mark Houghton, Graham Slater, Carl Harrison (Loz Harrop Lures) Paul Adams (the handmade fisherman), Mark Balmer (subversive Lures), Jackbait Lures, PM Lures, Wayne Fletcher, and Mark Berrisford.
The Unique Fishing Lure
Why would anglers want to purchase a custom lure as opposed to a regular shop-bought lure?
Shop bought lures have their place and there are some really good lures available off the shelf, I would say that generally, a custom will probably last a bit longer because the build quality is usually higher, multiple coats of epoxy make the lures really durable.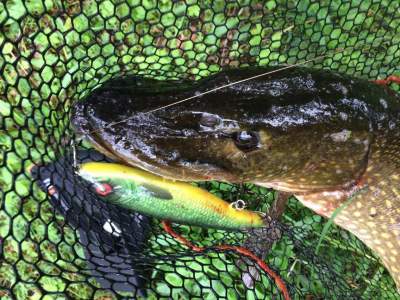 Most custom lures have also been fine-tuned to perfection too, there is something special about a custom lure knowing that it has not been made on a production line and that someone has put their heart into building it.
Your lures are a work of art and would look just as good on the sideboard as in the water! Is painting the lure the most difficult aspect of lure building?
I would say painting is the easiest part of lure building, creating an action that consistently provokes predators to attack in a number of conditions is the hardest part, second to that is consistently producing that provoking action.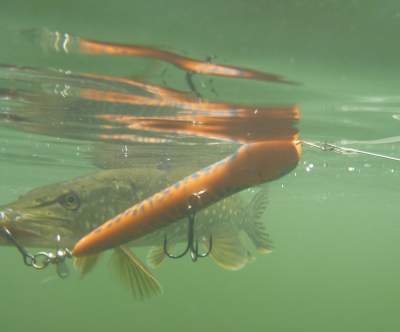 Do you test all of your lures before they are sent to your customers?
It all depends on the model Gliding Trout, Bream, The Hunter, and Jacktail are all really consistent and I can happily sell those without individual testing, just a quick sink test before packaging. The way in which I pressure cast my resin bodies with consistent amounts of components means I can create near Identical body densities. This means that as long as the exact amount of ballast is used and the same number of coats of epoxy on a lure they should be very similar in sink/float rates. Swimbaits like my Tench need to be water tested and tuned as these types of lures demand such an approach
Which of your lures would you consider to be the most deadly? In other words which one do our readers need in their lure box and why?
The Bream – Pike to 40lb Catfish to 80lb and countless doubles and twenties have fallen for this lure over the years.
The Gliding Trout – Simply foolproof
Jacktail – A useful negative lure for times when the Pike wants a little longer before committing to the strike.
Get your own Custom Lure
What's the process with an angler getting in touch with you and inquiring about a custom made fishing lure?
I am moving away from taking requests and trying an online shop format. Lures will be made available monthly and I will try and offer a good mixture of patterns and styles. The webshop can be found here – www.robinsonluresuk.co.uk
Baz, thank you for talking to PikeZander it has been an absolute pleasure. Good luck with your expansion of Robinson Lures – We can't wait to see what wonderful creations come next.
For your chance to win a Robinson Custom Lure please see our Instagram @pikezander T&C apply. Closing date 27/9/2020 23:59.
Hopefully, you enjoyed this post. Why not check out our blog? Or subscribe to the newsletter to find out when a new post lands?
Any other suggestions or questions? Leave a comment below or get in touch
PZ