The Jika Rig is one of the best methods out there for catching perch. That is the bold statement I am making today. A Jika Rig allows a soft plastic lure to jigged tantalisingly just off the bottom while still presenting a horizontal bait. 
Perch love the Jika Rig
Jika Rig originated in Japan before anglers in the US borrowed it for catching Bass. UK anglers then saw the benefits for catching saltwater species like Wrasse and Pollock. More recently, people have started to use the method for perch and guess what? They have had great success.
The Jika rig is a hybrid of the texas and dropshot rig. The result is a rig that you can use in almost any situation.
What tackle do I need for the Jika Rig
The rig is simple to tie and all the equipment you need is commonplace in any decent online or local angling store.
Fishing Rod
A Light dropshot rod suitable for casting soft plastic lures is perfect. These days you can pick up brilliant reasonably priced dropshot rod like this one.
Fishing Reel
A 2500 size reel is perfect though you could go smaller or slightly larger if you wanted to. If it was me looking to try the Jika rig or dropshot fishing I would go for something good but cheap like the Diawa Crossfire.
Fishing Line
I've explained the benefits of braid millions of times on this blog but for those of you that aren't aware – braid is essential. You need to be able to feel the fish plucking at your lure and braid's lack of stretch is perfect for the job. Go for the 0.08 diameter version.
Fluorocarbon Leader
Fluorocarbon is invisible in the water and helps to disguise your rig. Please only use if you know Pike is not present in the water. The Savage Gear soft fluorocarbon is a good option. Look for a breaking strain of no less than 10lbs.
Wire Trace (If Pike are present)
If you know there are Pike around you must use a wire trace. People worry that it might put a perch off and stop them from taking your lure. I can tell you definitively that it doesn't. My PB Perch came from a Stillwater that contains pike and I caught it while using a wire trace.
Terminal Tackle for the Jika Rig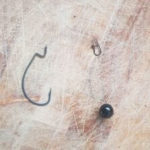 Snap links
Durable small snap links are all you need for the Jika rig. I always tend to go for black.
Hooks
The Jika Rig uses offset weedless hooks. You should look to match the lure you will be fishing. Smaller lures of 5-6 cm, a size 2 offset hook is perfect. For 6-8 cm lures, a 1-1/0 hook, and for 7-9 cm creature baits use a 1/0-2/0 hook.
Weights
On shallow still waters, weights of 2-5g will suit most conditions. Deeper venues or rivers I will usually step up to 8 or 10 g. This really depends on wind, depth and current. Small bomb-style weights and pencil leads are the ones I use on the Jika rig.
Lures
The fun part. Your lures. Have a look around for worms, craws, creature baits, or other soft plastics in a colour that matches the water clarity of your destination. Get a range of sizes so you can mix it up.
When and How to Fish a Jika Rig
The two main reasons to use the Jika Rig are:
Any situation you would use a dropshot style
It's weedy or you want to investigate heavy vegetation or challenging features.
The Jika Rig can be thrown between rocks and in deep holes where big perch are ready to ambush their prey.
As the wight is so close to the lure the Jika Rig is great for casting and piercing through heavy weed. No longer will lily pads shield your target!
The Jika Rig can also be used on deep silty bottoms and unlike a Texas rig, keeps the bait just off the bottom instead of pulling it down into the mud.
How to tie a Jika Rig
1. Tie your fluorocarbon (30cm) leader to the end of the mainline using a FG knot. See the video below.
2. Tie on your snap swivel
3. Clip your offset hook and your chosen weight to your snap swivel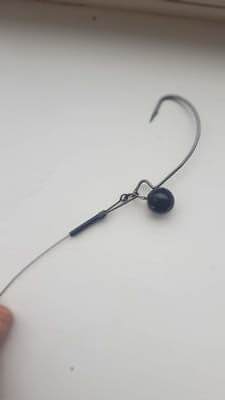 4. Thread the plastic bait on to the hook. The Jika is at its best fished weedless with the hook point covered by the lure body.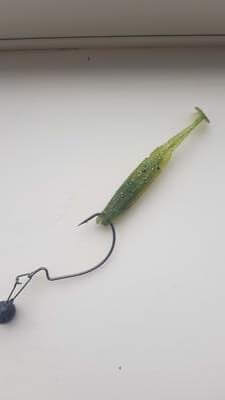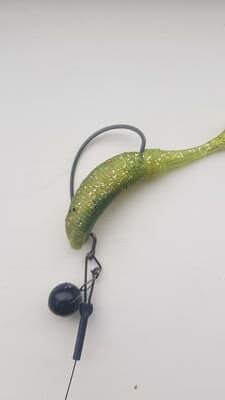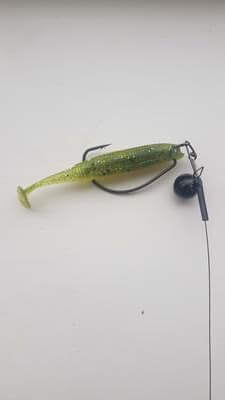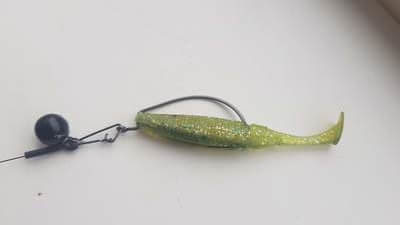 Jika Rig Variation
This is a better presentation but is more fiddly and can be a pain when you want to change weights.
You will need to purchase some small split rings and split ring pliers to make the job easier
1. Tie your fluorocarbon (30cm) leader to the end of the mainline using an FG knot
2. Connect your weight through to your split ring
3. Attach your hook to the same split ring
4. Thread the plastic bait on to the hook, it is best fished weedless with the hook point covered by the lure body.
Jika Rig Tactics
When I arrive at my venue, I regularly have a quick walk around, hunting for signs of fish movement and noting obvious features, such as overhangs, reeds and structure. Really it's anywhere where my target species, perch, could be lying in wait. These features are the best place to start and to explore your tactics for the session.
What technique is best for the Jika?
The Jika can be retrieved fast and erratic and you will find it kicks up a silt trail as it drags along the bottom. Conversely, it also allows you to search small pockets of water and nooks and crannies that would normally be off-limits.
The free movement of the setup means that you can twitch it on the spot between pauses similar to the drop shot, but with the added benefits of jigging.
Time to go fishing
So there you have it the Jika Rig. Its an absolute beast for catching perch and massively underused by the UK lure fishing community.
Let me know how you get on in the comments below.
Enjoyed this post? Why not check out Our complete guide to lure fishing for perch or our best perch lures 2019
Are you a lure or tackle manufacturer that would like an impartial review on this site? Get in touch.