In this post, we are going to walk you through the perfect jerkbait rod setup. First of all, let's find out a little more about Jerkbait fishing.
Please Note:
While we only ever link to tackle and lures that we have used and recommended, the link below is an affiliate link. This means that if you click a link and buy the product we may receive a small commission from the retailer (at no extra cost to yourself). Should you choose to use an affiliate link please know that we are extremely grateful and any commission we do receive helps us to maintain the blog.
Why choose Jerkbait fishing
A jerkbait is a popular lure fishing technique that is brilliant at triggering sight-induced strikes from predators like Perch, Pike, Zander, Trout and Sea Bass. It is a method that can be used effectively all year-round as it excels in all water temperatures. Best of all jerkbait fishing is an exhilarating way to catch fish.
What is a Jerkbait?
A jerkbait is a fishing lure that is designed to resemble a baitfish. There are two types of jerkbaits: hard-body and hybrid jerkbaits. Anglers typically fish this type of lure with a stop-and-go that will roll the lure between stops and a twitching type motion allowing you to work the bait from side to side resembling an injured or dying baitfish. Now let's look at the lures you will need to create the perfect jerkbait rod setup.
The different types of Jerkbaits
Hard Jerkbaits – Most hard-body jerkbaits are made from plastic and look similar to a crankbait. There are a number of variations that come beneath the hard jerkbait umbrella. These are listed below.
Floating Jerkbait – Ideal for shallow water and areas that have a lot of weed and vegetation.
Suspending Jerkbait – Ideal for cold water temperatures and open water conditions. Suspending lures mean you can keep working jerkbaits in the strike zone for longer
Sinking Jerkbait – Ideal for fishing in deep cover or structure.
How to fish a Jerkbait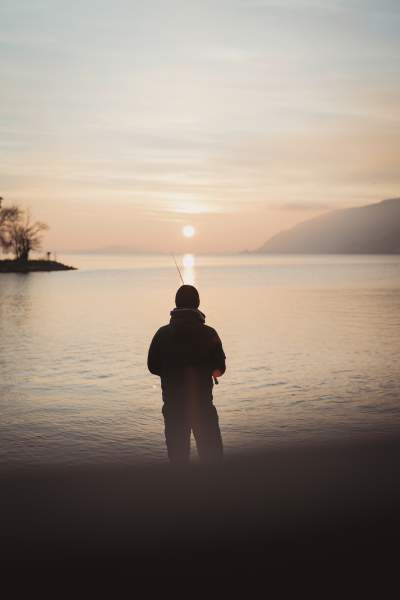 Just before we move on to the perfect jerkbait rod setup it is important to think about how you will work your jerkbait. The most important thing to note is that the action of the lure is down to you and what you do with the rod tip. Short, sharp jerks of the rod are required to tease a strike from a predator.
The speed of your retrieve will differ depending on the conditions and what the fish want on any given day. I always tend to start with a jerk, jerk, pause jerk, jerk pause.
I will fan cast the swim a couple of times and If this doesn't get a strike or a follow I will switch it up before moving on to the next swim. Important! Remember to collect in the slack line after jerking your bait!
Warm water – Be aggressive in your retrieve, user shorter pauses and harder jerks. With the warmer temperature predators will be active and willing to travel to strike your jerkbait.
Cold water temperature – longer pauses and slow twitches are key for success when the water temperatures are low.
Let's move on to discussing the rod and reel you need to create the perfect jerkbait setup.
The Perfect Jerkbait Rod Setup
We are going to talk about 2 setups and will be pitched at the mid-range budget. The first setup is for targeting smaller predators like Perch, The second setup is for use with larger fish such as Pike and Zander.
Light Jerkbait Rod Setup
Rod – High-quality spinning rod or baitcasting rod capable of casting between 5-20g
Reel – Spinning reel around the 2500 size or baitcaster reel
Braid – 8lb-12lb is perfect for this setup
Fluorocarbon – 8lb is ideal
Wire Trace – If you know pike are present in the water you should use a wire trace. This prevents bite offs and ensures pike will not die because of a lure stuck in their mouth.
Medium Jerkbait Rod Setup
Rod – High-quality spinning rod or baitcasting rod capable of casting around 20-60g
Reel – Spinning reel or baitcasting reel around the 4000 size
Braid – 25lb-50lb is perfect for this setup
Wire Trace – As you are targeting Pike or Zander you must use a wire trace.
How to Setup your Rod
So you are almost ready for hitting the water but first, we need to set up your fishing rod.
Get your rod built with the sections slotted snuggly together and thread your braid through the eyes of your rod.
Pull about 2ft of the line through and tie on your leader
Tying on your Leader
When it comes to the perfect jerkbait rod setup the leader is critically important. Be sure to buy a decent brand you can have confidence in.
Fluorocarbon Leader
If using fluorocarbon I like to have a leader of around 5ft. Attach to the mainline with a Double Uni Knot. Check out the video below to find out how.
Wire Trace
Attach your wire trace by tying the braid to the swivel with a Palomar Knot. Check out the video to find out how.
Attach your Lure
Fluorocarbon Leader
Tie a quick clip to the end of your fluorocarbon leader to make attaching your lure quick and easy. You can tie straight to your lure if you wish but this makes changing lures much slower. Examples of quick-change clips you can add to your jerkbait rod setup below
Wire Trace
Your wire trace should come already equipped with a quick change clip attached. I always recommend you buy a high-quality trace as you know you can rely on the quality of the components. The last thing we want to do is lose lures and even worse leave fish with a lure in their mouth because of a failed quick change clip.
That's it you are all set up and ready to attach your favourite Jerkbait. Check out the Diagrams below to see what your setup should look like.
Light Lure Setup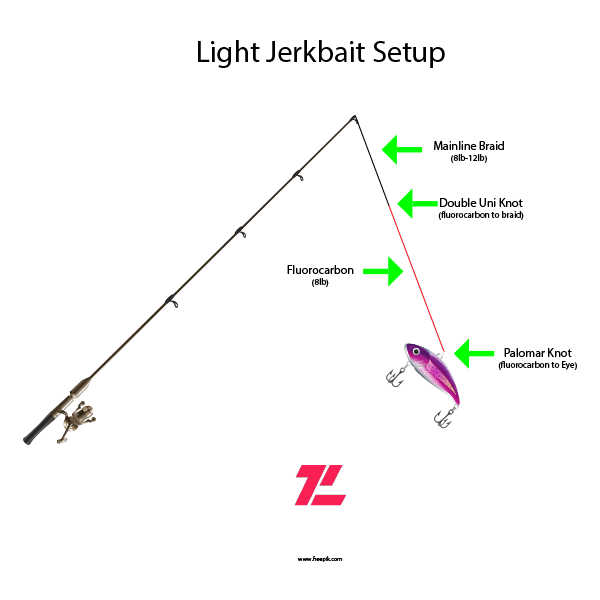 Medium Lure Setup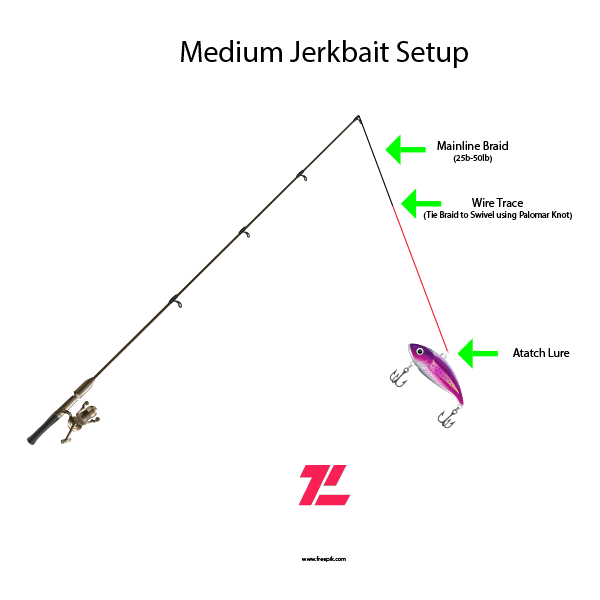 Summary
That's it you are good to go fishing with the perfect Jerkbait rod setup. If you want to learn more about Pike fishing with lures or Perch fishing with lures check out the blog.
Let us know how you get on in the comments below. Questions? Feel free to get in touch. Don't forget to subscribe to the newsletter.