A spinning reel is the easiest way to get in to lure fishing and what's best is that there is no need to break the bank. Before we get started on the Pikezander best spinning reels under £100 we should look at what a spinning reel actually is and why you should invest in one.
A spinning reel is the most popular type of fishing reel. It features an open-faced design and it is simple to cast, hence the reason so many beginners start with a spinning reel. Learning to cast? Check out the video below.
The spinning fishing reel has a fixed spool that allows the line to leave the spool freely when cast, making it a great option for lure fishing. The reel hangs underneath the rod, and as long as you choose a suitable size will have a nice, balanced feeling and allow you to practice a range of lure fishing techniques.
What size spinning reel should you choose?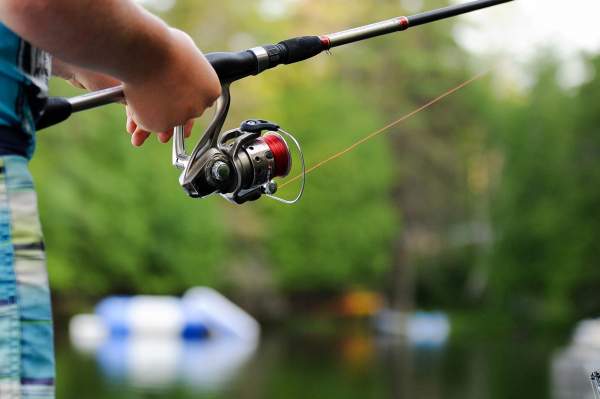 When it comes to lure fshing choosing the correct size spinning reel is important. We will cover this in a list of the best spinning reels under £100 further down the page.
The size of the reel is important for the following reasons:
Weight – Big reels weigh more. Try to match the size of the reel with your rod. The last thing you want is an unbalanced setup. Weight is also important because lure fishing is a very active form of fishing. You are not going to be sat in a tent waiting for the fish to strike. You will be moving from swim to swim a casting repeatedly. Get a reel that is too heavy and this is going to become uncomfortable very quickly.
How much line do you need? – Take into account where you are going to be fishing? Its rare when I am lure fishing that I cast huge distances because I mainly fish on rivers and canals. Therefore I don't need a reel that holds huge amounts of braid. Have a look at your local fishing spots and decide if you need a reel that will allow you to cast further or not.
How strong do you need the line to be? – What will you be fishing for? If you are targeting perch and using a thinner diameter of braid you will be ok with a smaller reel, I would recommend a 2000/3000 as a decent all-rounder (some people go much smaller) Going for pike instead you will need a stronger braid so scale your reel up a bit to maybe a 4000/4500.
As a general guide, I would recommend the following when choosing your reel
Ultralight 1000 – 2000
A fishing reel sized 1000 or 2000 is recommended for catching fish up to 4/5lbs
Light 2500 – 3000
A fishing reel sized 2500 or 3000 is recommended for catching fish up to 8lb/9lb
Medium 4000
A medium fishing reel sized 4000 is recommended for catching fish between 2lb/15lb
Medium/Heavy 5000
A medium heavy fishing reel sized 5000 is recommended for catching fish between 8lb/20lb.
Just getting started in lure fishing? Check out Lure Fishing for Perch and Fishing for pike with lures
Now we have the basics out of the way, let's have a look at the best spinning reels for under £100.
Best Spinning Reels under £100
Please Note:
While we only ever link to tackle and lures that we have used and recommended, the links below are affiliate links. This means that if you click a link and buy the product we may receive a small commission from the retailer (at no extra cost to yourself). Should you choose to use an affiliate link please know that we are extremely grateful and any commission we do receive helps us to maintain the blog.
4. Daiwa Ninja LT
Key Features
LT (Light &Tough)
4 ball bearings
AIR ROTOR
TOUGH DIGIGEAR
ATD drag system
Infinite Anti-Reverse
Cross Wrap system
Silent oscillation system
ABS aluminum Long cast spool
One-touch folding handle
Twist Buster II line roller
Our Opinion
This is an affordable spinning reel loaded with Daiwa's high-end features that generally only appear on more expensive reels. The Ninja is the ideal choice for beginners to lure fishing.
The LT technology stands for Light and Tough and the result is that it reduces the overall size and weight of the reel while increasing strength and longevity.
The ABS spool is suitable for braids and mainlines while the spool design increases overall casting performance.
Thanks to Daiwa's ATD drag system. The Ninja LT comes with a smooth, powerful and progressive drag system, ensuring you have complete control at all times when under heavy resistance.
The Daiwa Ninja is a great value and well under the magic £100. Available in sizes 2000 to 6000
3. Shimano Nasci
Key Features
Concept: Hagane
Family Type: Spinning
4 Shielded Stainless Steel &1 roller bearing
Line lay: Varispeed II
Handle: Single machined aluminum
Body material: XT-7
Spool Material: Cold forged aluminum
Maintenance port: No
Waterproof drag: Yes
Our Opinion
The Nasci is a deserved entrant into our best spinning reels under £100. For the first time, the Nasci reel features HAGANE gear and CoreProtect, usually only found on Shimano's most expensive reels. These additions increase gear strength and ensure a smooth experience, even under heavy stress. Available in a wide range of sizes, from the smallest 1000 size for finesse fishing to the 5000 size for heavy lure fishing.
2. Shimano Catana
Key Features
Rear Drag
XT-7 body material
Die-cast aluminium spool
2 SUS ball bearings and 1 roller bearing
AR-C spool lip design
Our Opinion
The Shimano Catana spinning reel gives fantastic power and performance for a fantastic price. You should be able to pick this reel up for around 40 quid. Both our boys use these reels when out lure fishing.
Built with a die-cast aluminum spool, the reel boasts high strength and durability. The reels are all equipped with two SUS ball bearings and one roller bearing for total smoothness and control.
The spool also has a spool lip design that increases casting distance and reduces wind knots. perfect for beginners and children.
1. Abu Garcia Elite Max
Key Features
Front drag
6 stainless steel HPCR bearings + one roller bearing
IM-C6 body
Rocket line management system
Rocket spool lip design
Machined aluminum braid ready spool
Slow Oscillation
Carbon Matrix hybrid drag system
Everlast bail system for improved durability
Stainless steel main shaft and components
Our Opinion
Our number 1 reel in our best spinning reels under £100 is the Abu Garcia Elite Max. We purchased one of these reels recently and it is one of the best quality spinning reels I have ever used.
The reel has a very smooth retrieve and drag, the parts are excellent quality particularly for a reel in this price range, and it is well-built. Our favorite feature of this spinning reel is the cast. It is possible to get some serious distance so if that's what you need the Abu Garcia Elite Maz is certainly worth your consideration. Available in sizes of 1000 right through to 6000!
I hope you enjoyed this post. Why not check out our blog? Or subscribe to the newsletter to be notified when a new post lands? You could win a free lure in our monthly giveaway!
If you pick up any of these reels, let us know how you get on. Any other suggestions? Leave a comment below or get in touch Good luck with your new reel.