When we saw that Garmin had entered the world of castable fishfinders we were excited, to say the least. We couldn't wait to write a Garmin STRIKER Cast review.
Garmin is well established in the fishfinder niche and has some of the best technology and one of the highest budgets at their disposal. We got hands-on with the Garmin STRIKER Cast to find out if it was worth the wait.
The Garmin STRIKER Cast is available in two variants. One comes with GPS built-in and the other which is cheaper to buy has no GPS. Garmin was kind enough to send us both versions. 
This review will primarily focus on the GPS version of the STRIKER cast but many of the features (except the ones that use GPS) are transferable to the standard version.
So how did the device perform in our Garmin STRIKER Cast GPS review? Let's find out!
While we only ever link to tackle and lures that we have used and recommended, the links below are affiliate links. This means that if you click a link and buy the product we may receive a small commission from the retailer (at no extra cost to yourself). Should you choose to use an affiliate link please know that we are extremely grateful and any commission we do receive helps us to maintain the blog.
Why should you buy the Garmin STRIKER Cast GPS?
For a long time, boat anglers have had the luxury of being able to use technology to target fish. However, shore anglers have been left to do the hard work themselves.
The castable fishfinder solves this problem and is the perfect tool for shore, small boat and kayak anglers.
Arguably, Deeper is leading the way in the world of castable fishfinders. Does the Garmin STRIKER Cast GPS present a serious challenge to their crown?
Enjoying our Garmin STRIKER Cast review? Check out our Deeper Chirp+ review
Unboxing the Garmin STRIKER st GPS
The device looks pretty cool. It's kind of a prism in either bright blue (GPS) or silver (Non-GPS)
The main features include:
Easy-to-use STRIKER Cast device streams and displays sonar on a simple phone app interface. Setup is a snap. And scans of fish and structure locations are easy to interpret.
STRIKER Cast GPS sonar works in freshwater or saltwater (and even for ice fishing) to show you fish and structure in crisp detail. You can use it to check water temperature as well.
Built-in GPS provides the ability to create custom Quickdraw fishing maps with 0.3-metre contours, so you can remember (and maybe share) where you found that great fishing spot.
Select from easy-to-interpret traditional 2-D sonar and ice fishing flasher modes, with setting adjustments for gain, range and more.
To make using sonar even simpler, turn on fish icons to view graphic images of fish targets and their depth readings, so you'll know exactly where to drop your line.
Product Specification
Size -75.8 x 75.5 x 57.87 mm
Weight – 75 g
Depth – From less than 0.6 m to 45 m
Battery life – 10+ hours on internal USB-rechargeable battery
Unboxing the Garmin STRIKER Cast GPS
Inside the Garmin STRIKER Cast GPS box you can expect to find:
Garmin STRIKER Cast (GPS or non GPS)
Carry bag
Tether (6 meters)
Charging Cable
Documentation
Getting Started with the Garmin STRIKER Cast GPS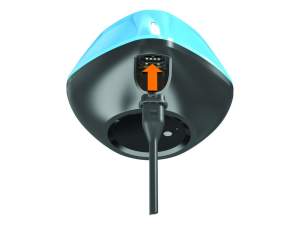 Credit Garmin Photography
The first thing we did in our Garmin STRIKER Cast review is, charge the battery! Sounds like such an obvious thing to do but the number of times I have gone fishing with flat tech is beyond a joke! .
To charge your new fishfinder all you need to do is attach the USB cable and a USB plug into a suitable power supply. Garmin does not supply an actual plug so you will need to source one of your own USB plugs. We had a few laying around so this was fine.
A flashing red LED indicates the device is charging. We couldn't find anywhere on the Garmin website that says how long it should take to charge but we timed it at around 90/120 minutes. This is acceptable in our book as the Garmin STRIKER Cast should go on to last around 10 hours of use on a full charge.
Edit – It does say in the manual that the Garmin Strier Cast GPS takes 1.5 hours to charge so this is pretty accurate.
With our device charging, we picked up our iPhone and downloaded the app from the app store. The app is also available for Android via the Google Play Store*.
*For reference, this review was written while using the Apple IOS. We cannot confirm the performance of the android version.
Once your device is charged and you have the app installed, setting up is pretty straightforward. Just follow the instructions on your phone and you will be good to go in just a few minutes.
Getting Ready to Cast the Device
Let's face it the major downside to castable fishfinders is losing them. The last thing any of us want to do is lose a fishfinder that we have just shelled a decent amount of cash on!
To safeguard against this you must ensure you are using the right rod and line to cast your device.
The setup we used was as follows:
Rod – 10ft Pike Rod (80-120g)
Line – 20lb test mono
Shock Leader – 40lb test mono
This is definitely over kill but better to be safe than sorry. As we review/use fishfinders quite often we tend to leave this dedicated rod setup for whenever we want to use it.
A useful tip is to buy some chunky quick clips to attach to your device unless you plan to tie directly onto the fish finder.
Casting the Garmin STRIKER Cast GPS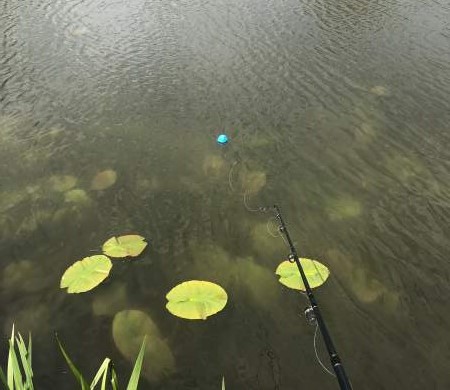 Once your setup is ready and your Garmin STRIKER Cast is attached you should drop it into the water in front of you. This is where setting up at home beforehand makes things easier as the device should connect pretty much instantly.
We found the connection to be very reliable and never had any problems connecting to the device. Much more reliable than say the Fish Spy Echo Pro.
At this point, it is a good idea to turn on recording if you plan to map the depth and contours of the venue you are fishing (GPS only). To do this:
From the app, select Chart.
Select Record.
As you fish with the device, a map is generated.
A green circle indicates good depth, GPS position, and good speed. A yellow circle indicates good depth and GPS position, but the speed is a little too fast. A red circle indicates poor depth information, poor GPS position, or a speed that is too fast.
Once you are connected you are ready to cast your fishfinder. We recommend you lob the device instead of trying to cast it as far as you can. Garmin say that the STRIKER Cast GPS has a range of 60 meters and we found this to be pretty accurate. The Bluetooth connection does not help in this department. Garmin would have been better advised to use WLAN like many of its competitors.
The device will then start capturing data as soon as it hits the water. This will be replicated on the screen of your mobile.
The Garmin STRIKER Cast in Action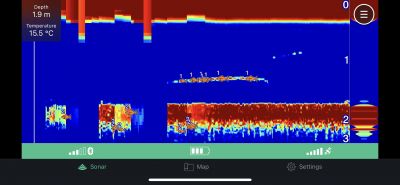 Now the device is in the water you will be able to see a number of results that can help you find the perfect fishing spots. These features include fish (obviously), the structure of the lake/river/sea bed, weed and other vegetation, water temp and depth. We found all of the above to be extremely accurate and on par with our favourite fishfinder the Deeper Chirp+.
For those who are new to fish finders you can switch on Fish Icons to make things even easier. This way, whenever the device finds fish they will be identified by an icon of a fish on your display.
Let's get detailed
The Garmin STRIKER Cast has a two transmitter frequency that you can take advantage of to:
Find fish
Zoom in on places of interest
The frequency to start with is 260 kHz. This mode provides a wider scanning angle and is best for finding fish and fish-holding areas. This mode allows you to cover more water at a faster pace.
The 455 kHz setting can then be used for examining places in more detail. Use this mode for better object separation and resolution
Creating Maps of your Venue
The Garmin STRIKER Cast GPS app comes loaded with a reference map. This map can then be searched to find the body of water you are fishing.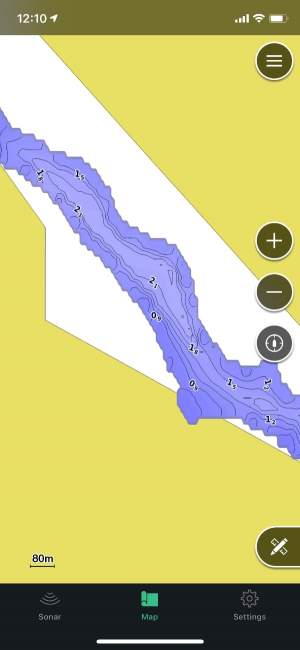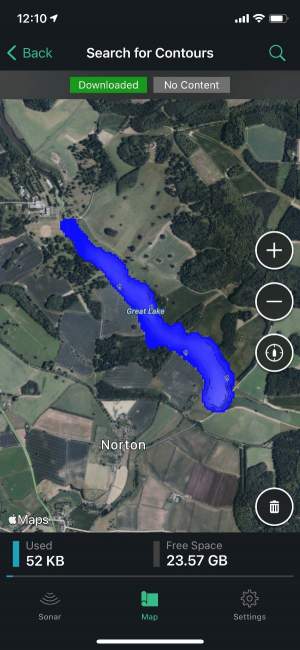 If you recorded your casts you should have an accurate picture of the location you were fishing. This provides valuable data on depth and contours. Fantastic when deciding where to fish at a later date.
These maps can be shared or not depending on your preference.
If we are honest (which we are in all of our reviews) this is where the Garmin STRIKER Cast falls down compared to the Deeper Chirp+
The Deeper Chirp+ lakebook feature is so much better than Garmin's Quickdraw Contours feature.
Conclusion
That concludes our Garmin STRIKER Cast Review. Garmin has done a great job with the STRIKER Cast GPS and its non GPS version. It is certainly a great first foray into the world of castable fishfinders.
Is it better than the Deeper Chirp+? No. In our opinion, the Deeper Chirp+ holds on to its crown as the worlds number 1 castable fish finder.
The Garmin STRIKER Cast is a good little device that will help you to catch fish, the price point is excellent and we found that everyting pretty much worked as suggested by Garmin.
If you are looking for a cheaper alternative to the Deeper Chirp+ we would have no hesitation in recomending the Garmin STRIKER Cast GPS.
What we liked
The device is one complete unit. There are no parts that need to be screwed together like with the Deeper Chirp+. This provides peace of mind that you are not going to destroy your fishfinder by not putting the parts together properly.
The device is light and a pleasure to cast
The GPS is and scan results are very accurate. This is almost as good as the Deeper Chirp+ and much better than any other castable fishfinder we have used to date
Quick Draw Contours is useful and great for identifying good spots for future sessions.
Very reasonable price. Cheaper than the Deeper Chirp+
Excellent battery life
What we didn't like
The Garmin STRIKER Cast GPS uses a Bluetooth connection. This limits the range of the device somewhat and presents more opportunity for interference and dropouts than WLAN
Quick Draw Contours is nowhere near as good as Deeper's Lakebook
No Chirp technology and only two frequencies
No Smartphone Rod Mount
We hope you enjoued our Garmin STRIKER Cast review
Let us know in the comments below if you have tried the Garmin STRIKER Cast GPS
Why not check out our blog? Or subscribe to the newsletter to find out when a new post lands? You could win a free lure in our monthly giveaway!
Any other suggestions? Leave a comment below or get in touch
PZ