Our latest review is an exciting one, the FishSpy Echo Pro is a shiny new piece of tech and it is a castable floating sonar/fishfinder device made by Total Fishing Gear. Now I hear you, there are other castable sonars available, Deeper and Ibobber to mention just a couple but the FishSpy version has something that none of the others has… an inbuilt underwater camera capable of not only recording footage but high quality live video streaming straight to your mobile phone!
To say we were excited to get the FishSpy Echo Pro out on the bank is an understatement. To test the device we took it first to a large flooded reservoir local to us called Wintersett and then to a local brick pond to complete our review. Has FishSpy raised the bar on castable fish finders? Find out below.
Please Note: We only ever link to tackle and lures that we have used and recommend. The link to Amazon at the end of the post is an affiliate link. This means that if you click the link and buy the product we may receive a small commission from Amazon (at no extra cost to yourself). Should you choose to use the affiliate link please know that we are extremely grateful and any commission we do receive helps us to maintain the blog.
Fish Spy Echo Pro – The Unboxing
Before we jump into the actual review I want to give you a little more info on the FishSpy Echo Pro itself.
In the box you get:
FishSpy Echo Pro
USB Lead
Instructions & Warranty
One Boom
The FishSpy Echo Pro feels really well built solid but not too heavy and it looks great. Having owned a Deeper 3.0 I can tell you I much prefer the look of the FishSpy, especially in the water, it looks like a pike float.
The actual dimensions of the device are as follows:
Weight – 110g
Dimensions – 70mm
Picture Resolution – 640 x 480
Battery Life – 3 Hours
Range – Up to 100+ Meters
Depth Range – 30 Metres
Record time – 5 Hours
Battery Recharging time – 3 Hours
The device comes packed with features including:
Cutting edge Echo Sounder/sonar technology
Live video streaming
Record and download video footage
Switch modes at the touch of a screen
Build bathymetric lake maps – study offline
Offline Sonar plot history
Built-in GPS locator
Locate features and find fish
Huge 100m plus range
Android & iOs compatible
Companion App
FishSpy Echo Pro – The Setup
Setting up the FishSpy Echo Pro is really easy with absolutely no fuss. Once charged setup takes about 5 mins. Simply take the device out of its box, unfasten the cover that protects the charging port and charge it with a standard micro USB. I found a small coin works best to open the cover.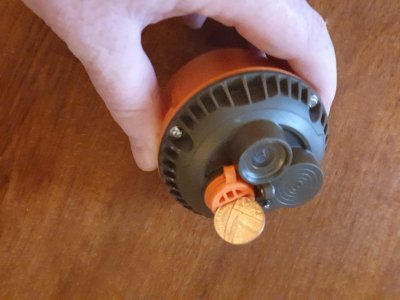 You will know when the device is charging because a red light shows near the charging port.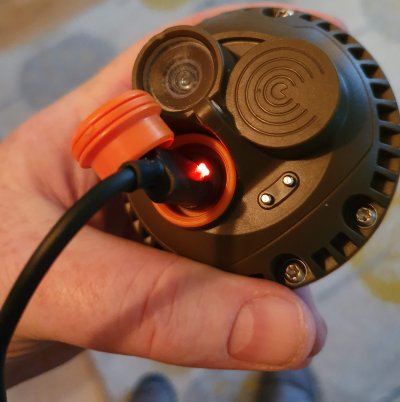 Once the FishSpy Echo Pro is fully charged the light will change to green. Unplug the device and remember to securely fasten the cover that protects the charging port. This cover keeps the sonar waterproof.
Now you are going to want to connect the device to your phone. I did this at home but you could just as easily do it on the bank. Simply wet the two metal pins on the bottom and this will turn the FishSpy on. Go to your phone and search for wifi networks until the Echo Pro network is visible. On my phone, this displays as epxxxx. Hit connect. All done.
The App
Go to your app store and download the FishSpy Echo Pro App. The app is great, no fuss and simple to use interface.
I tested the app on my Samsung S9 but I'm pretty sure the IOS version is exactly the same. Just a quick note on connectivity… When you are ready to use the device in the water be sure to turn off mobile data. Leaving this on can prevent the FishSpy Echo Pro from working correctly.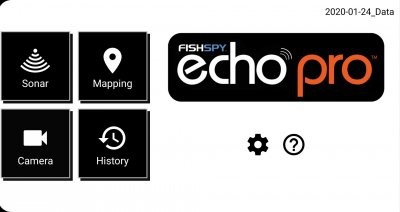 Mapping
This section of the app is where you can build bathymetric lake maps that can be used to study when you get home or planning future sessions. All you need to do is download the map of your lake before you go fishing. All of this can be done inside of the app itself and is quite simple to do.
When you cast your new FishSpy Echo Pro it will automatically start to create an accurate map of the lake/pond/river. This is invaluable when targeting specific fish through different seasons. I found it amazing for finding drop-offs and deeper sections of water. Ideal for winter lure fishing predator fishing.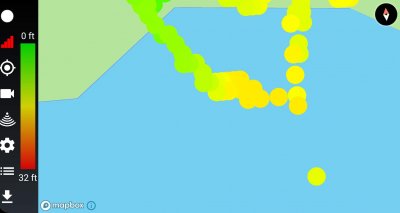 Sonar
The meat and drink of any fish finder are, of course, its sonar capabilities and we are delighted to say that FishSpy nailed it. My experiences with other fishfinders have been inconsistent. Sometimes they would work great but on other occasions, they didn't work at all or would drop signal a short distance from the rod. Not the FishSpy Echo Pro.
The sonar is faultless and reliable. It actually helps you to find fish and fish-holding features. The depth is accurate and the longitude and latitude are on the button.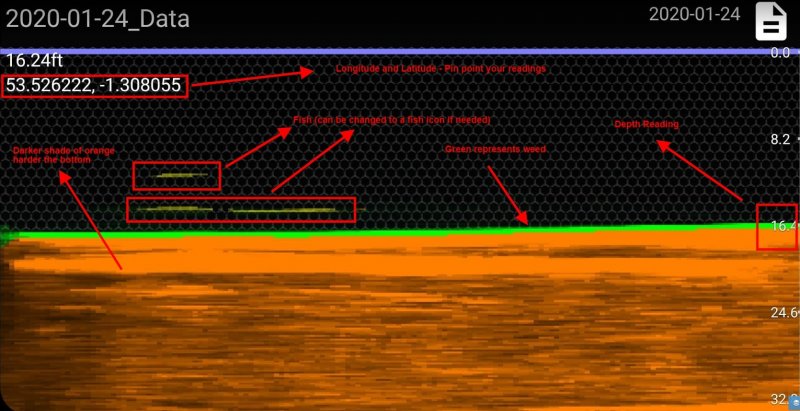 In my review of the FishSpy Echo Pro I chose a venue I had traditionally struggled. The goal is to find features I could come back to in the future. Check this out… perfect spot for Perch I cant wait to drop a lure in there.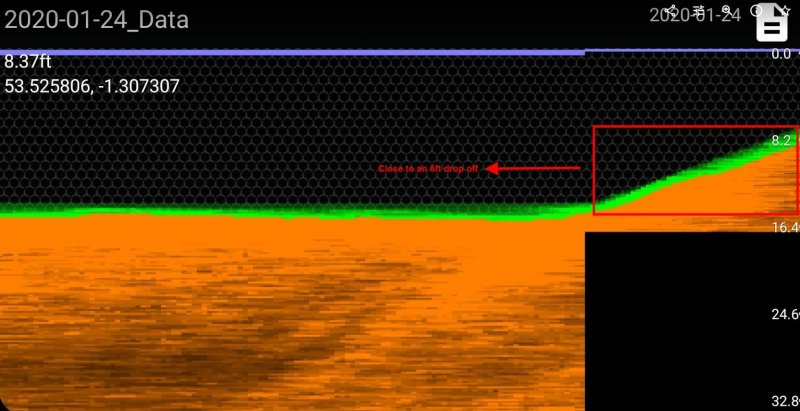 During the review, I also found a huge shoal of smaller fish. If smaller baitfish are around you know who else is going to be close by Pike! Perfect when lure angling for Pike, perch or zander.

Camera
I was excited to give this a go and I wasn't disappointed. The venues I tested on were quite murky due to all the rain we have had here in South Yorkshire but the FishSpy Echo Pro was great to about 10 ft. After that the images were good but the bottom was not clear. When the weather picks up I'm sure I will use this element of the device even more.
Not only does the camera record the footage it streams it directly to your phone. This is a brilliant feature that I really enjoyed using. Previously when I got the fish finder out my son would moan and groan that it was boring and for him it was. Now he gets to see what is under the water. I think he actually prefered using the FishSpy Echo Pro camera to actually fishing!?! Any footage you take can be recorded and downloaded to your phone for review when you get home.
Is the camera the only reason to buy the FishSpy? No definitely not because the sonar is amazing and the bathymetric lake mapping is dynamite. The camera is more of an added bonus really. It is wonderful for checking out those features and It satisfies my intrigue of what lies beneath which is fantastic. Another great use would be for bait anglers that like to pre bait their spots. The device could actually be used to check if your bait has been eaten!
History
This section of the app is where all your sonar graphs are stored. Perfect for reviewing when you get home or prior to your next trip. These can be shared with friends should you choose to be so generous!
Results
While reviewing the FishSpy Echo Pro I spent the majority of the time using the device and not actually fishing. I wanted to be sure I had given the device a good working over before writing this review for our readers. However, my friend asked to take the device out for a night session on a local river. He's a specimen fisherman more than a predator angler but had been struggling to catch in recent sessions. The next morning I woke up to this picture in my WhatsApp!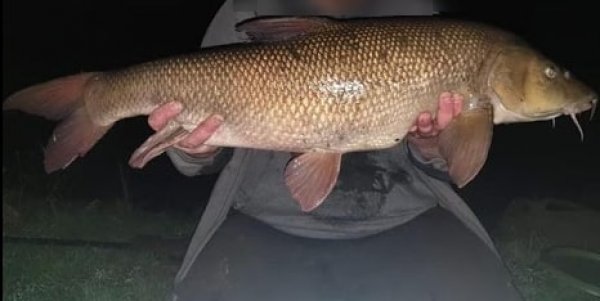 Summary
The FishSpy Echo Pro is a stunning device and quite simply the best castable sonar on the market and a wonderful addition to your predator fishing tools. The sonar is at least as good as any other available and probably better. Automatically building bathymetric lake maps is a fantastic feature and the camera is a great extra that sets it apart from its main competition the Deeper. Go buy it.
Pro's
Stunning sonar that is a joy to use
Great app with simple user interface
Brilliant connectivity
The camera provides high-quality images and streaming directly to your phone
Build bathymetric lake maps
I couldn't find any major cons with this device so this section is more 'things to consider'
Things to consider
I did not have an issue with battery life but it is less than some other castable sonar's on the market
I couldn't find any option to check the water temp
It's not cheap but it is in line with other castable sonars and you get more for your money with the camera
Buy the Fish Spy Echo Pro
That wraps up this Pikezander FishSpy Echo Pro review. If you pick up the sonar let us know in the comments below. Remember to check out our blog for similar fishing related articles and subscribe so you know when the next post lands.
Any questions? Feel free to comment below or contact us.
Tight lines and wet nets.