We interviewed the mastermind and owner of Bully Baits, Luke Bullivant. A new custom lure builder who has been gaining lots of attention in recent months.
Luke, please tell us a little bit about yourself and Bully Baits.
My name is Luke Bullivant and I live in Oxfordshire. All my life I've been fishing, starting off at about the age of five, coarse fishing rivers with my Dad. Cut to 28 years later and I'm still doing that, but now I've branched out in to lake fishing and of course, predator fishing. Bully Baits is a company I set up during lockdown (sorry, that's the one and only time I'll mention that!!) after getting in to predator fishing a couple of years ago.
It literally consists of me, in the garage, in my spare time, carving wooden lures. What I've made for people so far has been well received, but I'd still very much call myself a hobbyist.
Thank you for the lure you sent us! We have named it the 'Snakehead' It looks amazing in the water and we are pretty certain it will capture some huge Pike. Where did the inspiration for this lure come from?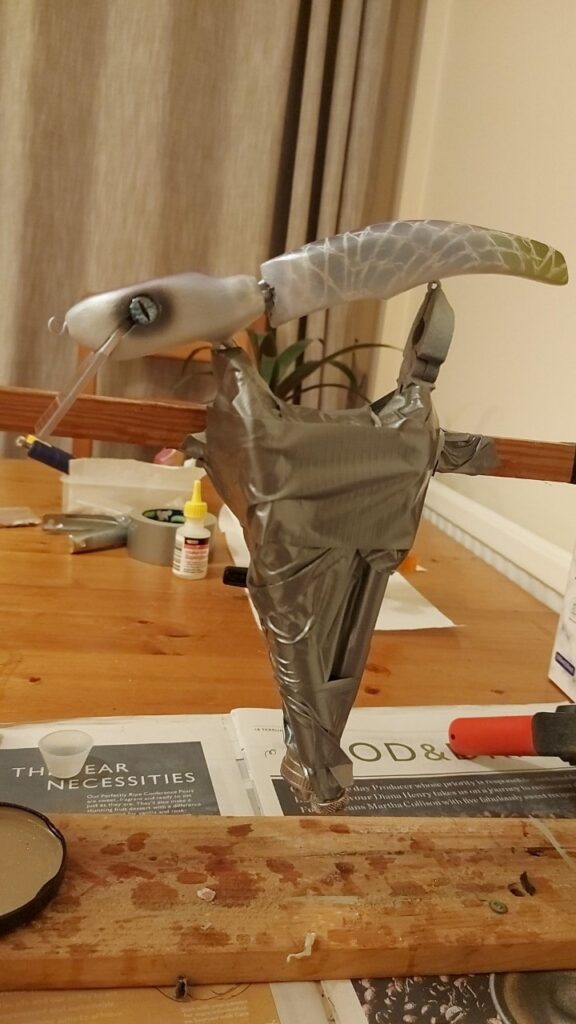 You're more than welcome, and I think 'Snakehead' sums it up perfectly! I tend to just start doodling shapes until something looks good. I knew that I wanted enough width in the head to have a relatively large lip, and thought smaller eyes suited the profile. This lure initially had a different body, however after testing it in the water, I hit a brick wall with where and how I was going to attach the hooks. That body went back to the drawing board to be further developed, and hopefully be seen in the future. I was then obviously left with a nice shaped lure head with no body. I thought about just adding a soft plastic body, but it's not my style to add something I haven't made, so I set about carving a body. From making previous lures I knew that a longer body attached to the small head would give a nice action, so, I loosely based the body on those. I wanted the side profile to curve slightly and look sleek in order to give a nice natural wiggle to the lure, in the hope that this would be appealing to any predator that could get its jaws around it.
How long have you been making custom baits and how did you get interested in making custom lures in the first place?
I've been making custom baits now for about a year, but at the start they were just for myself. I knew that the feeling of catching a fish with something I'd made myself would be brilliant, so I set myself that challenge. I've always been into making things from a young age, tables from wooden pallets, clocks from old wine boxes and turning pens on my lathe. These were all nice but I decided that I wanted to cross over the two hobbies of fishing and woodwork. I think I decided to have a go at making my own lure after watching Marling Baits on YouTube. I guess I have a bit of an obsessive personality because after about two weeks, I'd watched nearly all of his videos and thought "I've the same equipment as him, and a (little) bit of skill so why not have a go?" Airbrushing, however, was a completely new skill to master for me…and I'm definitely still learning!
What are the considerations you have to make when designing a lure? Is the process a lot of trial and error?
I tend to enjoy designing quirky lures, as a bit of a challenge to myself. I think of an idea and then decide if making it into a lure would actually be feasible. The next consideration is whether it is going to be top water or at what depth it's going to swim at. Once I have established that I then know whether to cut in a lip slot or any joints while the bait is still flat. Then it's carving time. 100% of the time it's trial and error. There have been multiple times where I've carved a 'weird' lure to the point of testing, only to get it in the water and find out it's not going to work. When it does work though it's a great feeling!
How long does it take to make a lure? Can you walk us through the process?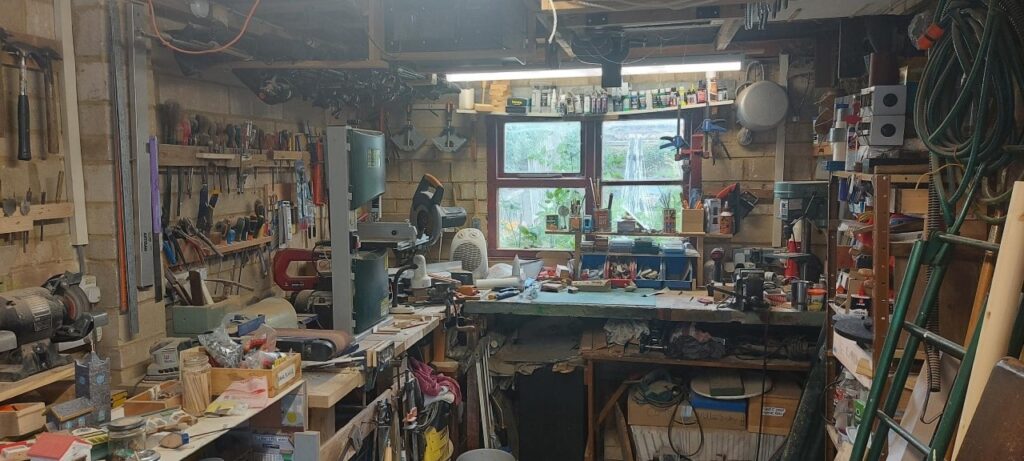 It very much depends on the complexity of the lure and how much spare time I have. A simple glidebait could be carved, tested and painted in a day, and then a day or two for the clear coat to cure and harden. Once I've come up with a design, I transfer this on to whichever wood I'm using, usually Basswood or Pine (I'd like to use Tupelo, if anyone can get me any, drop me a DM!!), then I cut the profile out on the bandsaw, sand and mark on chamfer lines. Next, I either use a chisel, Stanley knife or specific carving knife to cut down to the lines and then sand smooth. I'll then mark and drill where I want the hook holds and line tie to be (ensuring they're central – a line tie can be adjusted with pliers to correct the swim of a bait later). Depending on the size of bait, I'll either make my own twisting wire, or occasionally use premade screw eyes and fix them in with epoxy, so they're not going anywhere. I then drill hole/s in the belly using a Forstner bit so that I can add the molten lead to weight the lure. I cover these holes with baking powder and superglue (thank you Marling Baits for this tip) and very quickly place it in a test tank to make sure it sinks or floats how I intended. Finally, I seal the whole bait in superglue to ensure its watertight, sand it and then take it to the river to test its action. Once I'm happy with the action, which could take a couple of adjustments, it's on to painting. I use an Iwata Eclipse CS airbrush which is fantastic, I've used a couple of others but none compare to it. Once painted I then attach the lure to the drying rotisserie so that the clear coat, either resin or epoxy can be applied and dry evenly. After about 24hrs it's cured, but personally I like to leave each lure to dry a further 24hrs so I don't put any fingerprints or scuffs on the finished product. Then it's ready to be fished.
Pick up the equipment Luke uses! 
Which Bully Bait lure is the most effective? Can you tell us about some of the fish you have caught with your lures?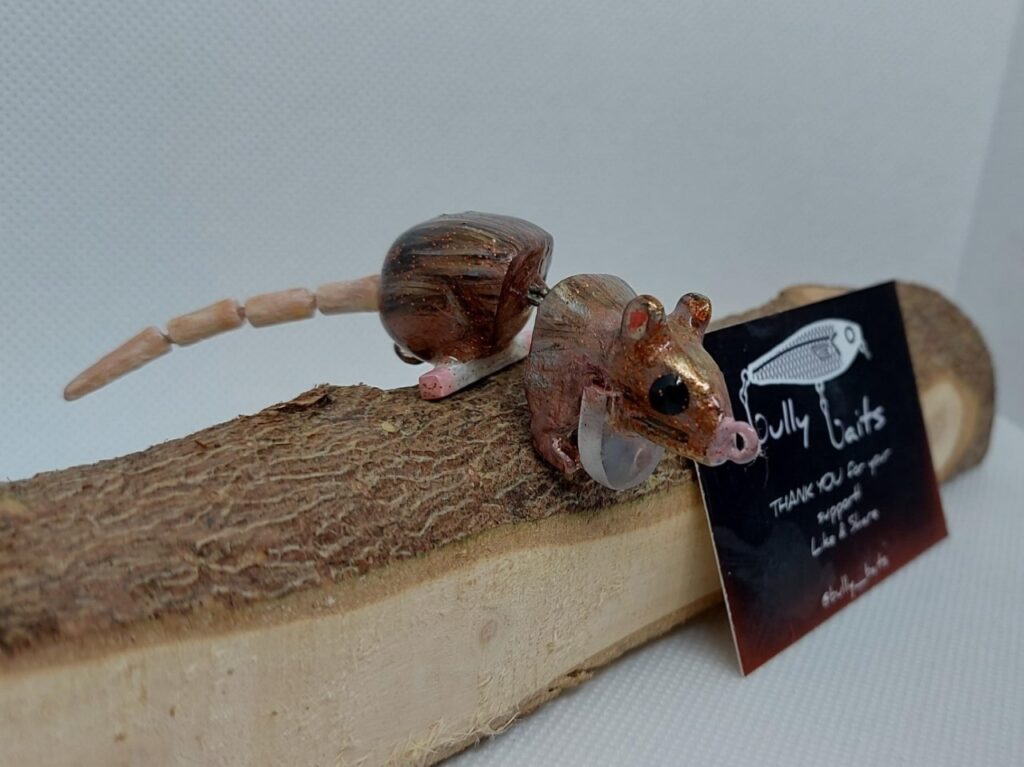 I think the most effective was the jointed top water Micro Mouse, which I made for The Ginger Fisherman . On one of his videos, he catches a couple of big Perch and a 4.5lb Chub. I've had success on a fair few of the lures that I've made for myself. The ones I make for personal use don't tend to be named. One that sticks in my mind is a black and red mid-jointed shallow diving bait. It was an early creation where I was still learning and the weight in it isn't distributed evenly. This actually worked quite nicely as it has a random, erratic, almost injured bait fish action to it. When you can see the fish but they don't want to take conventional lures, I reach for this one as sometimes it irritates them in to a strike.
What lures can people order from you? Do you have a catalogue or do you make originals for every order?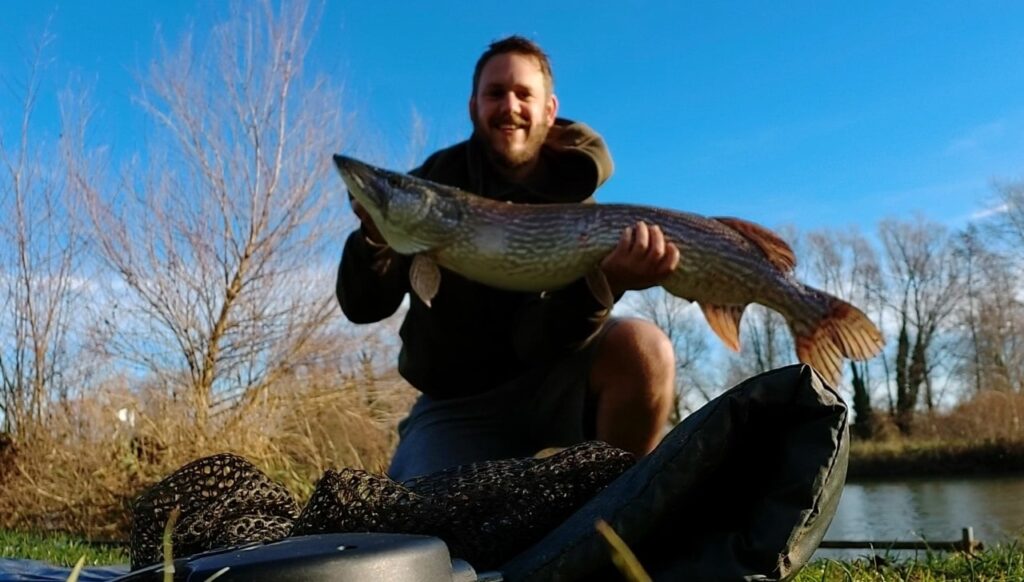 I don't have a catalogue, and only make bespoke one-off lures. I do this because I like to think that the person who I've made the lure for has the only one of its kind, making it that much more special to them. I like to think that that's one of the reasons that people contact me. Yes, I'll make similar, but I tell a lot of people who want the same lures made they've seen other people using, i.e. in YouTube videos, that I won't replicate them. Likewise, I would then never replicate the lure I then make for them. I believe that bulk making lures does have a place but with my set up, and ethos, I prefer the more individual and personal approach.
How do people get in touch with you to order baits? Can you tell us about lures you have designed for others?
At the moment it's all through Instagram, I know I should branch out, and possibly will at some point, but at the moment I'm very happy doing what I'm doing. How it is at the moment allows me to work on a couple of lures at a time, and focus my attention on talking to those that I'm making the lures for. I then understand what they want from their lure. I do have some on the waiting list though, and will always respond to any enquiries I get. Some of the notable lures that I've made for people, other than Pike & Zander of course are: Neil Spooner (Mirror Carp lure)
SnaggedBros – Lure figurine of Sean & Tom and a Pikachu Pokémon lure
The Ginger Fisherman – Top Water Frog with Spinner Blades & a Micro Mouse
DB Fishing – Double Inline shallow diving prototype & lure figurine of himself
The Horizon Liner – Jointed sinking cosmic painted lure
One of my favourites, which I've only recently completed, is 'Blinky' the three eyed Simpsons fish, which was actually made for a customer who then went quiet on me…..so offers welcome 🙂
What are your plans for the future?
The immediate future consists of working on current lures and the ever-growing waiting list. As long as I'm able to continue making/creating lures and fishing I'll be happy.
Get in touch with Luke at Bully Baits
Did you see our feature post of the year? The Best Pike Lures of 2021. It's worth a read. Hit the link to go there now.
Let us know in the comments below.
Why not check out our blog? Or subscribe to the newsletter to be in with a chance of winning a free lure in our monthly giveaway!
Any other suggestions? Leave a comment below or get in touch
PZ