I always cringe a little when I write any 'Best….' blogs. That is because so many people will have differing opinions. So before anyone gets upset and hammers me in the comments, this post 'The Best Perch Lures 2020 UK' is just my opinion. There are thousands of lures that I could have talked about but as ever with pikezander.co.uk, I want to write about something I have hands-on experience with and feel confident in.
The fact of the matter is Perch will willingly take a great variety of lures and they are brilliant sport on a light set up. If you are wondering what tackle you need to start lure fishing for perch – check out Lure fishing for perch.
There aren't many lures that a perch won't touch However it is certainly true that you will have better luck with some lures as opposed to others. All of the lures I will list shortly have caught me fish including my PB perch (3lb 2oz). Firstly let me outline the main types of lures you need in your lure box.
Spinners
Spinners have always been a favourite lure for perch and will definitely make an entry to my 'Best Perch Lures 2020 UK'. Spinners are effective and work particularly well when fished at the correct size. Spinners attract perch by the vibration they give off as they are retrieved.
As always I don't believe the actual colour is too important but I would pick dark or bright patterns depending on the water condition. Natural colours for normal conditions and bright for murky water. Black is a sensible choice if you are fishing in clear water.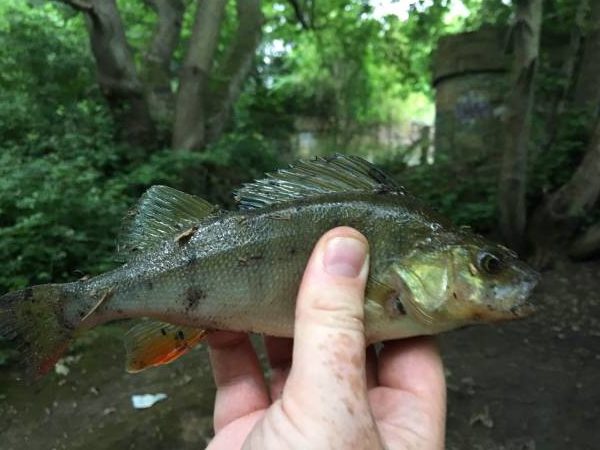 Jigging
Jigging has taken the sport by storm and although it is seen as a new method, in reality, it isn't. Regardless, It definitely is a tried and tested way of catching perch. They generally work best when perch are deeper in the water but I have caught by Jigging in all conditions. There are all sorts of combinations and types of jig head available but if you're just starting out I would go for between a 2.5g Jig Head and 5g.
Jerkbait, Crankbaits and Plugs
My all-time favourite method for catching perch or any fish for that matter are crankbaits jerkbaits and plugs. If your unsure about what these baits are you should check out this post here (its a pike guide but scroll down to 'Types of Lure'). You want to go for smaller sized variations I would say no bigger than 9cm depending on the lure. Perch can get big but most of the perch you will catch in the UK will be sub 1lb and the good fish 2lb+.
The Best Perch Lures 2020 UK
Right, without any more delay here are 'The Best Perch Lures 2020 UK' in my opinion :).
Please note: While we only ever link to tackle and lures that we have used and recommended, the links below are affiliate links. This means that if you click a link and buy the product we may receive a small commission from the retailer (at no cost to yourself). Should you choose to use an affiliate link please know that we are extremely grateful and any commission we do receive helps us to maintain the blog, create more content for readers enjoyment and continue our adventure in the wonderful world of fishing.
5. Mepps Thunder Bug
I am and have been a for a long time a huge fan of the Mepps Aglia range. I have caught bucket loads with the Agila especially when I first started with lures. My son also loves them! However, the Aglia does not make 'The Best Perch Lures 2020 UK' and that is because I recently discovered the Mepps Thunder Bug. I decided to give them a go as they looked good and wow I'm glad I did. It is definitely another winner from Mepps. Interestingly I have caught a couple of smashing Chub from a local river with these beauties.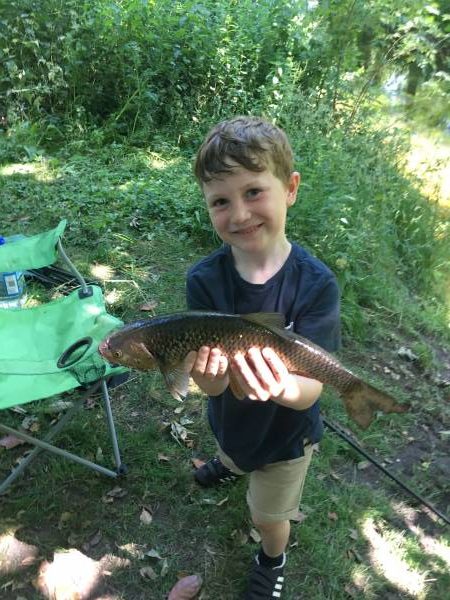 The Thunder Bug blades are formed like insect wings. They are composed of quality materials and seem to have just the right shape and thickness create a vibration fish just can't resist.
Put the Thunder Bug down the sides of reeds and lily pads for maximum effect.
4. Salmo Hornet
The Salmo Hornet has a wonderful reputation as a serial fish-catching crankbait and rightly so. This is one of my go-to lures and its not just me, millions of Hornets have been bought by anglers in dozens of countries. The Hornet is one of the best sellers in Salmo's range and it is highly effective for every species of predatory fish, especially, perch. It is also simple to use and therefore a great beginner lure. Just cast it out and retrieve and the lure will do the rest. For river, fishing, be sure to keep the retrieve speed slightly faster than the current. Try to hold the Hornet in place over deeper spots where you expect the big fish to be waiting.
The hornet is available in sinking and floating, multiple colours and weights. My personal favourite for perch is the 5cm floating Grey-Silver.
3. Relax Kopyto Shads
As we move into the top 3 Best Perch Lures In 2020 (UK) we get our first soft plastic lure. The Relax Kopyto Shad just works. It catches fish after fish and can 100% be a blank beater. I can't remember how many times I have been having a tough day and the Kopyto has dug me out and saved my session.
The Relax Kopyto Shad has an ultra-realistic swimming action while paddle tail and jointed body and ensure they remain effective at any speed.
Available in lots of different colours and sizes but I tend to use the 7.5cm ones the most. I pair them with a good quality Jig head usually between 2g and 5g.
2. Big S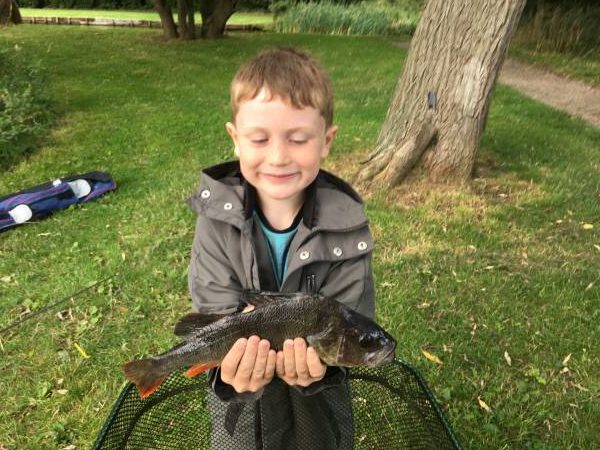 I had to include this plug as it has and does catch me lots of perch. This is also the lure that caught me my PB from a river in North Yorkshire and my son's that was featured in the Angling Times! The lure has a fast enticing vibration and a rattle that drives fish crazy. It is also incredibly easy to use. Just cast and retrieve that is all there is to it.
The Shakespeare 'S' is available in a range of sizes from tiny to a 120mm Mega version. I personally love the Midi 10g in perch colours.
See it at Angling Direct (Not an affiliate link)
1. Shadow Rap Shad – Best Perch Lure of 2020
The Rapala Shadow Rap Shad is one of the best perch jerkbait lures I have ever used. The range is designed to represent baitfish fish in trouble or injured. The lure has a wonderful flash as it rolls in the water and gets takes from perch, pike and zander. The Shadow Rap will dive to around 0.9-1.2m unless you go for the deep version and that goes to 1.5-1.8m. The lure can be cranked or jerked and worked at any speed, though I find short erratic jerks are the most likely to provoke a take. Its is a cracking bait and deserving of the number one spot in my Best Perch Lures In 2020 (UK).
The lure is around 9cm, weighs roughly 12g and is available in a range of colours and patterns.
I hope you enjoyed this post. Remember this is just my opinion and there are many other lure anglers out there that will have a different set of lures they like the best. Now I want to put it back to you… Which lures do you recommend and why?
Do you want to know how to catch pike on lures in Autumn?
If you need any support or guidance with anything lure fishing-related please feel free to contact us.
See you next time.
PZ